If you are in need of retail therapy you'll love shopping in Tel Aviv! Aside from the sprawling air-conditioned Shopping Malls with stores of international and local fame, there are many other shopping options in Tel Aviv. We have many districts which combine shopping with leisure activities. This always includes a cafe or two, restaurants, bars, sometimes entertainment for children, street music and often historical surroundings. We have markets for food, spices, flowers, Judaica, vintage memorabilia & clothing, retro & antique furniture, art, and creative handmade items. Then, of course, there are the infamous shopping streets of Tel Aviv. On these, you'll be entranced by local designer stores, trendy boutiques and artsy studios amongst the bustle of human traffic and the many eateries that pave your way.
In order to avoid confusion and to save you time, I have listed here specific shopping in Tel Aviv.  I hope you have a Sweet experience but do spend wisely- there's always another something to be bought around the corner!
Shopping Malls
Dizengoff Center Located on Dizengoff Street. One of the first to be opened. Houses the Lev Cinema
Gan Ha'ir Mall Located at 71 Ibn Gvirol Street. A small mall with limited stores but with activity area for very young child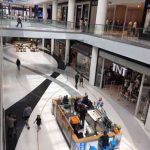 ren.
Azrieli Center Located at 132 Menachem Begin Street. An impressive tower accommodating a few floors of shopping & fast food
TLV Mall Located at 6 Carlebach Street. The newest mall, with a real cosmopolitan feel. Only two cafes but super spacious stores & walkways. Mostly well-known brand stores.
Shopping & Leisure Districts
Kikar Hamedina Located at Hei Be 'Yar Street. Surrounding the green, tree-lined center, are boutique shops with imported high-end designer fashion & homeware items. Three cafes & a great bakery, (get takeout coffee & sandwich and go sit on a bench)
HaTachana Complex (The old Railway Station) located at 2 Kauffman Street. This historical place houses local designer boutiques & fashion stores in beautifully renovated buildings. There are a few restaurants and cafes if you prefer to people watch in the interesting surroundings.
Tel Aviv Port Located across from HaYarkon Street at the most northernly point of  Dizengoff Street. Here you can shop in international brand or local stores.When you're all shopped out there's breakfast, lunch or dinner whilst watching the Mediterranean Sea. If you still have the energy you'll enjoy the nightlife of clubbing & music.
Sarona Complex Located between Kaplan & HaArba Streets. This wonderfully renovated complex was once the German Templar Colony. It hosts grand shops with delightful designs, restaurants, cafes, wine bars, and ice cream parlors. If this is not enough you can always pop into the newer Sarona Market.
Neve Tzedek Unique boutiques of fashion, homeware, & specialty goods entice you to shop in this special neighborhood. A number of good restaurants, wine bars, quaint cafes my favorite ice-cream parlor!
Streets for Shopping
Dizengoff Street The best-known street in the city. Featuring fashion boutiques, bookstores, pharmacies, bridal shops, nail salons, souvenir stores, kiosks, cafes & eateries. Including Israeli fast food for those needing nourishment for the shopping expedition!
Shenkin Street An eclectic mix of fashion & sportswear boutiques, health shops, a fragrance & grooming products store & even a corner hardware store. A few cafes line the street.
Bograshov Street If you are looking for bohemian or a basement bargain this is the street. Hidden among these little stores are cafes, eateries a posh wallpaper shop & a synagogue sadly in need of restoration.
Markets
Carmel Market One of the most popular in the city. Fresh produce, poultry, meat, halva, olives, flowers, spices. A traditional mix of products, plus some pretty good fast food stalls!
Bezalel Market Never go naked in Tel Aviv! Hunt through the rails of fashion until you find your passion at a bargain basement price!
Levinsky Market Sugar and spice and all things nice! Including dried fruits, nuts, olives & culinary delicacies that will stimulate the chef in you! Quaint cafes, a deli bar & even a synagogue!
Jaffa Flea Market Antiques, vintage or second hand! Set amongst unique shops, great eateries & historical arcitechture
Sarona Food Market The largest, modern indoor culinary complex in the city. Featuring tasty fast food, gourmet food shopping, flowers & kitchen equipment.
Rothschild/Allenby Food Market The newest of the indoor food halls offering tasty fast food, wine, baked goods & some healthier options..