If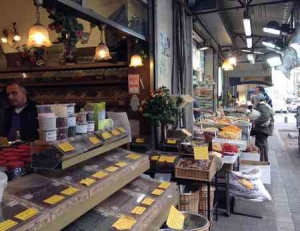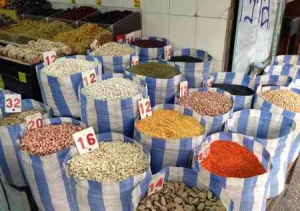 you need to 'spice' up your life take a trip to Levinsky Market in Tel Aviv! I am a real fan of this south Tel Aviv location. I love the combination of the of the old and new, the tatty and refurbished. Today, I insisted we shop for some super spices to enhance the flavor of Sweet mans home cooking, plus a a few ingredients acclaimed for their super health properties, such as fresh knobbly cumin root.
Luckily we found a spot to park the car, a tight squeeze even for my darling driver. Leaving our almost vintage sweet carriage virtually kissing the bumper of the posh car next to it . Having made sure Sweet man had easy access to his wallet, we set out arm in arm to shop!
The colorful Levinsky Market (Shuk) is not a stalled market but roads of hole in the wall shops or booths that have been around for years. Generally in the case of spices, dried fruits, olives and even cheeses the whole front exterior is exposed and spills on to the street with displays of stripey sacks, huge hessian bags and bountiful boxes.
We strolled along the unevenly paved streets, amazed at the wares on show. Plump juicy olives in brine or peppery oil,  exotic fruits dried within an inch of thei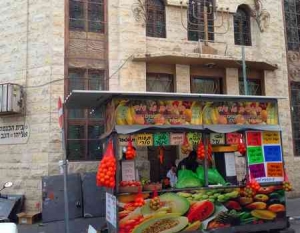 r shelf life, numerous nuts of varyin
g shapes and textures and aromatic spices ground into flowery powders, tempting and all beautifully bewitching. Then there were the teas. Mixtures of cloves, cinnamon & apple, hibiscus, citrus leaves, mint & menthol & blooms with names I would never remember! Of course we spent some time debating what we should purchase against what we would actually use. Being eternally accommodating Sweet man decided to buy a little of everything to test out (on me!)
Levinsky Market extends from Levinsky Street to HaAliyah Street and Herzl Street. An eclectic area of  specialty stores, bakeries, delis and imaginative eateries. The market has a magnetic draw for those with any culinary taste or creativity. Here you can discover a spice once used profusely in the past but nearly forgotten. You can have a discussion with a vendor about a dried herb to fix all ills or listen to legendary stories about the development of this famous and unique local institution.
In the 1920's the land which is now the Florentin District was purchased by the Salonika-Palestine Investment Company. Founded  by a group of Jews from Salonika, Greece it was their int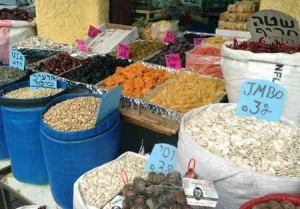 ention to develop commercial relations with Jewish settlements in Pale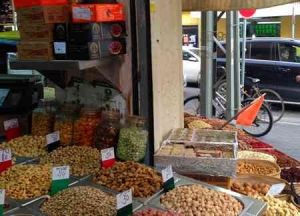 stine. Leading the group was David Florentin, who was so committed to developing Tel Aviv earned the nickname David 'Palestina' This southern Tel Aviv neighborhood was built in 1933 nearly mirrored the Jewish Quarter in Salonika, becoming the new home for working class Greek immigrants.
FYI, "Florentin" was also the name and setting for a very popular local television series in the late 90's, portraying the neighborhood a as scruffy but trendy area for the young and arty. Think of New York's Soho district.
♥ Levinsky Market