Well, it's that time of year again but I still adore the Winter Beach in Tel Aviv. The damp grainy feel of the sand, the way it sticks between the toes, but clings like gritty glue to any woven clothing. It migrates into the hem of your jeans or manages to climb inside your sport shoes even if you're jogging along at a decent pace!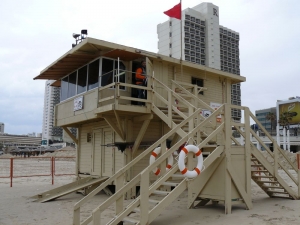 Seriously though, I truly love the Winter Beach in Tel Aviv. The experience is so far removed from our usual sweaty sunbathing, paddling, swimming, and leisurel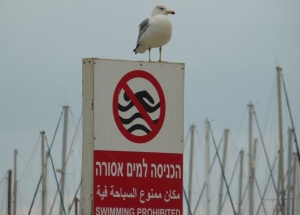 y book reading that is totally enjoyable for the few months of winter weather that we suffer. It's a wonderfully indulgent feeling to spend an hour or so walking along the pier, dressed in woolies, coat, hat and scarf, catching the cold wind as it blows from the frothy sea. I often take a brisk walk on the sand itself near the waters edge to get a whiff of the breamy sea air. The Winter Beach in Tel Aviv is almost deserted apart for the odd runner and those brave-hard rubber covered surfers who ride the wild waves. A few overdressed children are dragged along by a parent in the hope that the winter walk will knock them out. A lone but tanned lifeguard can still be seen practicing his safety moves!
On the wide grey prom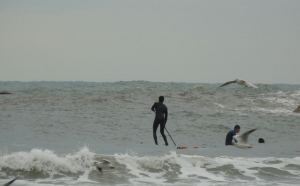 enade, shadowed by mostly unoccupied towering hotels, life is still in full play, Matkot play that is.
Matkot is an Israeli obsession. It is in our D&A. Just like a version of squash with the same swings of aggression when hitting th
e ball and that heavy popping sound bat to bat. Played with a medium sized hard wooden bat (think large ping pong) and a stone hard tiny black ball (think WOW pain). During the Winter Beach in Tel Aviv this is played outside in designated areas by passionate and serious players who don't care about the sesonal weather.
Of course we cannot forget the dancing! Loud taped music booms across an asphalted square, the size of a mini ballroom allocated specifically for another Israeli obsession, folk dancing! I understood some years ago that even the winter chill does not dissuade these hardened traditional (but not professional) dancers from continuing their trance like formation steps! Dressed in warm attire they are few, but formidable.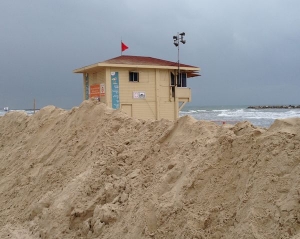 Do take note that Israeli folk dancing is a phenomenon in itself. People from anywhere can just jump in and jig along, jump out and carry on their merry way, it is free….and funny
I can honestly say that I have never seen something like it in all my travels. It's precious!
If you are so inclined to join in when visiting Tel Aviv, take at look at this link I found on You Tube, so you can practice before the holiday season or just enjoy watching it whilst sipping a hot
cup of coffee.
.
♥Gordon Beach
Tel Aviv
Preview YouTube video Israeli folk dance at Gordon beach Tel Aviv, Hora Yayin