For those of you who are unfamiliar with the grungier side of Tel Aviv, I thought I might guide you through a few of the streets which qualify in this specific category.
In this post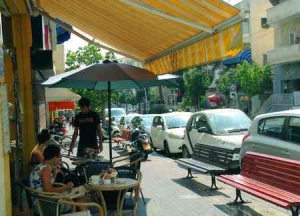 I will attempt to describe Bograshov Street, one of the tattier but well established thoroughfares which extends from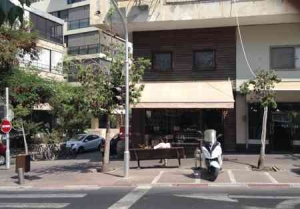 the East of Tel Aviv beach to the intersection of King George Street.
This street is a bustling bastion of commerce and a regular rendezvous for locals and out of towners for coffee, lunch or a mini meets.  It is tightly lined with numerous cafes, Israeli and Asian eateries. There are bountiful boutiques of Tel Aviv type "trendy" clothing &  international imports, vintage & second hand items, exclusive wallpaper shops, somewhat dubious hair salons , a perpetually busy printing parlor and a bead & bauble shop should you wish to attempt some creativity!
The clothes stores are generally inexpensive although some of the now famous Tel Aviv designers still hold tight to their original flag ship stores on this street. Home design shops offer wallpapaer, (imported)  or items which are promised to enhance your home interior… At the Dizengoff end there even stands a synagogue.
In my opinion, the street is  a tribute to Tel Aviv's past, as although the vendors may change and the outlets may become a little more designed or updated, the atmosp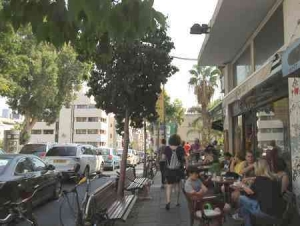 here remains the same. Bograshov remains comfortably recognizable, busy, buzzing and cheerful. A street without frills and fancy, laid back and 'current' at the same time. It's s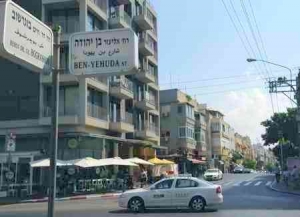 lightly unkempt appearance is not threatening but instead reasurring and even soothing, knowing that any major change has for now passed it by.
It is a lively place during the day, but becomes even livelier at night when the bars open, the booze starts flowing and the boys on Bograshov go ballistic!
On a more "sober" note, the street was named after one of the first active  Zionists, Chaim Bograshov who lived to a grand age of 87 and died in 1963.  In 1903 he was a delegate to the Sixth Zionist Congress in Basel, Switzerland opposing the British 'option' of Uganda as the new Jewish homeland.
In the early 1920's Bograsov also served as a representive to the Tel Aviv City Council and in this capacity established the Tel Aviv Nordau district for Jewish families that remained homeless. The main thoroughfare in the district was given his name, which he may have found less than comfortable as it is rumoured that he thereafter changed his surname to Boger…..
Although he was one of the founders of the Herziliya Hebrew High School (Gymnasia Herziliya), I tend to believe that for this generation and those to follow, he will be more remembered as the guy that gave this ecletic street his unforgettable name!
Take a walk during the day hours, sit and drink a coffee and be an observer in the late evening!
♥Bogrash
ov Street