Familiar like a old slipper or comforter would be how I describe the Dizengoff Shopping Mall in Tel Aviv.  No longer posh or and  not terribly imposing it is however, the most established shopping arena in Tel Aviv w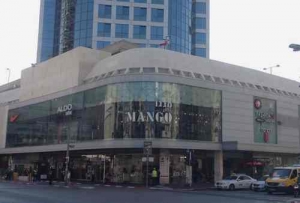 ith a captured audience, yours sweetly included. It was the first of many to be built,  so it could be referred to it as the 'flagship' mall .
It took five years from 1972 until 1977 to create this celebrated center located on the renown Dizengoff Street and intersection of the more eclectic, King George Street.  It was actually named after the first Mayor of the city Meir Dizengoff and like a strong wise matriarch has continued to hold position even with younger, more elegant and enticing competition.
Dizengoff Center houses over 420 shops including the international known chain brands such as Zara, Billabong, 24 Seven and Nike. Local chain names also feature heavily like Castro, Renuar, Golf, Ronen Chen etc.
There are numerous cafes of pretty high standards plus many eateries, varying from MacDonalds (tastier kosher meat version) to designer bar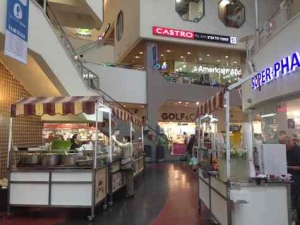 seated sushi bars.  You can be made over by Mac, drink a healthy delicious shakes by Rebar, shop for undies by Initima, smell luscious by Laline and still have breath for basement grocery shopping in the wall to wall aisled supermarket! If energy remains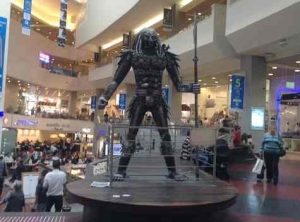 there's a body building gym and two cinemas, either of which will take your mind off calculating the money you have spent hitting the shops!
I am a fan. I love a mooch around, although nothing much changes. On occasions, high days and holidays there are arty exhibitions or even 'events". Each Thursday and Friday the Center is even more coszy when home-cooking is marketed from food carts. Home cuisine comes in all forms, from  choking Cholent to chop suey Chinese. You can munch away from a plastic plate whilst wandering, do  cardboard container take out or, just inhale the aromatic smells to stimulate your gastric juices whilst bustling for a bargain …See you there!
♥ Dizengoff Center
Shopping Mall
Corner of Dizengoff Street & King George Street