If you feel th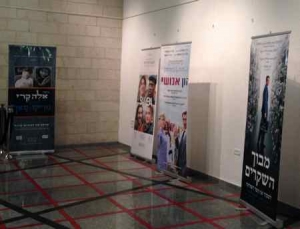 e need to indulge in a evening of screen entertainment after the long day on the beach, an ideal pastime is to visit one of Tel Aviv's cinemas. I personally enjoy a bit of avant-guarde filming, foreign, cult, contemporary or independent movies as opposed to the big budget busters ( which eventually get shown on the telly). There is something very pleasant in sitting for an hour or so in an fairly comfy if slightly worn armchair without the regular hum of human ch
atter. Focusing on a film that whisks you to another place can be very therapeutic! Not to be forgotten of course, is the addition of the constant cooling air-conditioning which is nothing to be "sneezed" at when the temperatures remain unbearably high outside on the street.
There are negatives. In my case, trying to keep a half eye on hubbie in the event that  (1) he falls into a deep sleep and lolls towards the unsuspecting person sitting at his other side (2) starts snoring which could be mistaken for a horrible chortling laugh… Plus as a general observation (depending on the theater), there may be that unfortunate crackling noise to indicate the mastication of  bucketed salted popcorn or, the slurping that identifies the emptiness of the sweet carton drinks sucked through a colorful but flimsy plastic straw. But this is just a small price to pay for time out of ones own story whilst enjoying another…
So whatever your preference and according to your accompanying  audience, there is a movie venue in Tel Aviv to suit all tastes and ages.
 ♥Lev Tel Aviv Cinem
a
Located in the easily accessible Dizengoff Center shopping mall, this complex offers both independent  (off beat) & foreign films. It  is both popular and pleasant. Do check prior to booking that foreign films have both English as well as Hebrew subtitles.
Tel: (03)-6212222
 ♥Tel Aviv Ci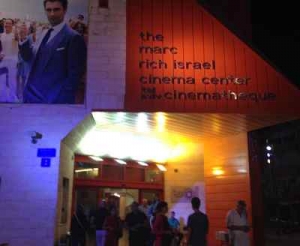 nematheque
Located in 2 Sprinzak St. , it boosts five screening halls. It offers Israeli ( sometime contraversial) and foreign films. plus private screenings to support the enterprise. Occasionally, it premieres new Israeli films see my post and has a space dedicated to watching movies stored in its substantial archives. The Cinematheque is well know in Tel Aviv for hosting annual  Film Festivals, such as  documentary, foreign, animation etc. See my post Cinema club.The large lobby displays photo exhibitions by Israeli artists, has a few knick knack shops and a  fair sized cafe with seating. No food or drink is allowed inside the screening halls. Should you be inclined to read more about its activities it publishes a film journal aptly named "Cinematheque". Tel: (03)-6060800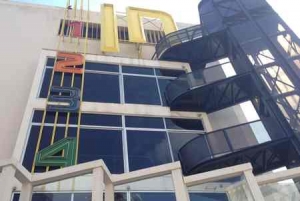 ♥Rav Hen Tel Aviv Cinema
Located just off Dizengoff Square, this is a theater complex much the same as any other. It offers the block buster films of all genres.  Large and small screening rooms subject to the popularity of the movie.
Vendors of film food including but not least popcorn, soft drinks and ice cream. All munchies permitted in screening rooms.
Tel: 052-822-8803