I recently had a cordial invite to a small but very smart gallery showing in south Tel Aviv. The Presler Private Museum stands three stories proud on Wolfson Street in the Florentin district and for those of us who enjoy out of the box exhibitions this urban art institute is definitely a go to.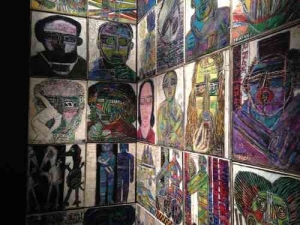 The mus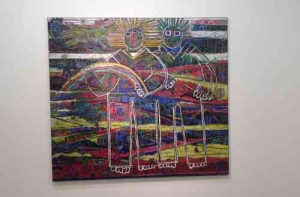 eum which opened its doors in October 2013, is owned by Yigal Presler, a gentleman who has for over twenty years studied and collected art pieces.
The building itself is a classically designed but impressive structure. Three floors that are split up into several showrooms, (showcasing specific artists for a dedicated period ) plus a wonderfully spacious roof terrace complete with sculptures, from which there is a great perspective of  the southern city.
As the Department of Art owns a extensive and rare 20th century collection of pieces these are given on loan to other renown local and international museums. The Presler Museum concentrates on a particular period in time and gives a visitor such as myself a greater insight into the artworks created in the 20th century by the manner in which it exhibits the collections. Always eye food for thought!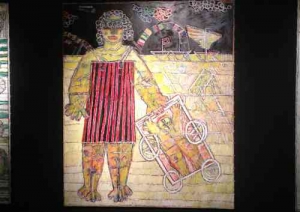 At the time I was having a nosey around there were two major exhibitions. In this post in case you start yawning,  I will (try) to precis the history of one of the artists whose work I personally favor and then leave you with some eye candy!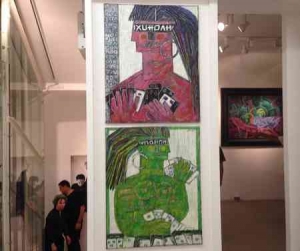 Moshe Tamir, born in Odessa, studied at Bezalel Academy of Art, completed studies in 1947, won the Struck Award.
In 1952 graduated from Academy of Fine Arts, Florence (specialized in fresco & monument painting). Assistant to renown fresco artist Prozzo Parchi.
One of Tamir's masterpieces is the fresco Amnon Wounded in Tel Aviv Musuem- earned in honorable citation at Venice Biennale.
1954 moved to Montparnesse quarter in Paris here he lived and worked for seven years.
1958 exhibited at Museum of Modern Art in Paris- voted one of top twenty young artist in Europe. Invited to paint frescoes in Chicago and  Mexico City.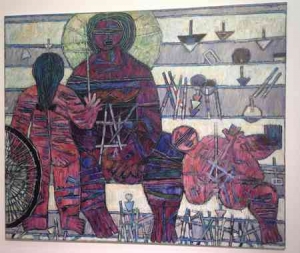 Between 1958 and 1986 four exhitions In Palais des Beaux -Arts,Brussels plus  joint exhibition with Picasso.
Headlined as the "Renaissance Man" thereafter works extensively covered and had  TV media following.
Won first prize for artistic lithography at Sao Paulo Biennale,still works on display in Rio de Janeiro Museum
1999 book published by Gu
y Pieters in Brussels about Tamir's work.
Known as one of the most important artists of the 20th century. His works are featured in prestigious collections, leading exhibitions and permanent collections all over the world.
Opening Hours
Sun-Wed 10:00am – 19:00pm
Thu 10:00am – 20:00pm
Fri 10:00am – 14:00pm