When the weather is dry and  bright in Tel Aviv but the fridge is devoid of anything that looks remotely fresh, where better to buy delicious produce, fresh fish and seafood, aromatic spices, succulent olives and much more, only in the famous Carmel Market.
Grabbing a vinta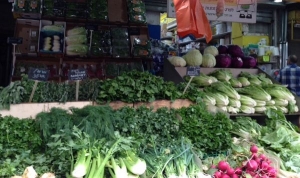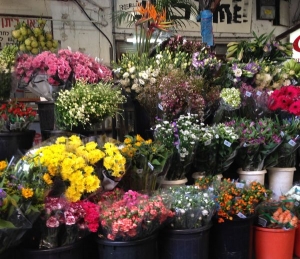 ge wheeled trolley bag (not an ideal fashion accessory but ever useful) and checking that the contents of my purse is sufficiently filled with money in small change, it's time to take a leisurely stroll along Allenby street to this Aladdin's cave of goodies.
At the entrance, of this Tel Aviv market, street musicians with makeshift instruments play loud attention seeking music to compete with the passing traffic, whilst willing but transient audiences gather round. This, together with the rumbling of incessant chatter only further creates the impression that there is a circus of wonders to come.
Following the uneven stream of human traffic into the narrow walkway, I am embraced each side by over packed stalls selling inexpensive clothing ( some seemingly unwearable unless you resemble Barbie or Ken), stationery (useful and useless), household appliances (rarely necessary) and a plethora of other stuff that is inedible. Then, just before claustrophobia takes hold, I begin to hear the cries of competing traders, the banter of jokes and retold stories and, a sudden whiff of the cleansing scent of Eucalyptus. I have reached a mass of blooms in every imaginable color, an array of nature's beauty in the midst of this unsightly passage.
A few steps further brings me to stalls stacked high with fruits and vegetables in vibrant tempting multicolor ( are there such colors in a rainbow ?), multiple shapes and sizes, various textures and smells. Everything looks so delicious (although some fruits even I can't identify), so the only factors in my decision making is which stall looks the freshest and is selling a the most reasonable price.
I do like olive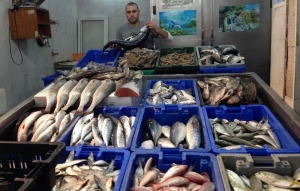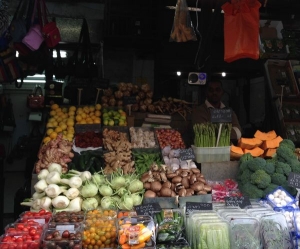 s and this Tel Aviv market is the best place to experience the fragrant smells and distinguishing flavors. Although I have my favorites, the stall holder encourages me to taste others kinds before I buy and since this is a scrumptious exercise, I do more than happily.
The spice stalls are piled high with exotic powders, crispy leaves, dried peppers, garlic and lemons, displayed in hessian bags. Since taste is not always an option, (I hardly want to sample a straight pinch of madras curry powder) I make good use of my other two senses, focusing on the rich almost biblical colors and the aromatics scents to stimulate my taste buds. Experimenting with spices in cooking my favorite way to experience a new or combined flavors so I am content with small bags of everything which has sparked my culinary imagination.
Then there is fish. What is sharper to the nose than that waft of ocean, the salty odor than comes from fresh fish. My new find is an open shop in the market that sells succulent seasonal fish and seafood called Rusto (+972544898022). The display is immaculate, all silvery and shimmery, placed by hues of the cold color palette, and stored in cool containers according to species. The "fishy" service is excellent, filleting, descaling and such, but the real service is the knowledge that is extended freely and with charm.
All this and so much more… a visit is definitely a must
♥ Carmel Market (Shuk HaCarmel)