Did you know that the sweet Sarona Complex in Tel Aviv was constructed on the neglected remains of it's original Templar Colony? The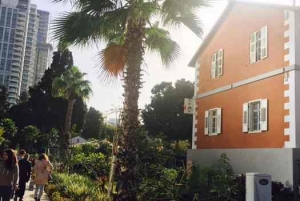 Templars held the belief that spiritualism was not only personal but communal. To this end, their target was to establish settlements in the Holy Land, initially in commerce and tourism. In 1871, the Sarona Colony in Tel Aviv was the first agricultural settlement founded by the Templar Society. By actively working the (Holy) land, they bel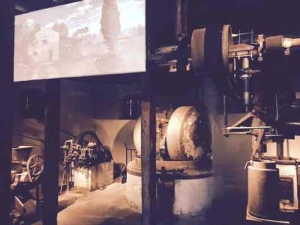 ieved they would be able to progress the coming of the messiah. The only way to achieve this goal was the development of productive businesses using any resources the land could supply. Unlike other the Templar Colonies in the country, most of the community were employed in this agriculture venture. The Sarona Colony were focussed in experimentation of crops and plants to achieve the best results. Their efforts proved rewarding and provided a great base to our modern day agriculture in Israel.
The Templars main concentration was on wine grapes which led to the formation of a large winery. The Sarona Complex in Tel Aviv still has today a few of the original cellars where barrels of booze were kept! They also built an extraordinary oil press, which has been lovingly preserved for public viewing along with an interesting movie explanation.
The first houses in what is now the Sarona Complex in Tel Aviv were built along an intersection of two major roads, (now Kaplan & David Elazar Streets) Over time more streets were added and so it became a square. This was the first structured community within Tel Aviv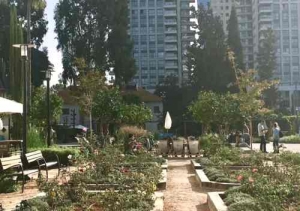 but the whole settlement was unlike any other in the country. Wi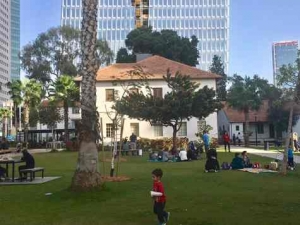 de green lined avenues and residential houses were built in an architectural style only found in Europe. The area was well planned and constructed for the community. Corner plots were allocated to public buildings such as the community hall. Commercial structures sat within the wide streets sharing space with the unique homes. Sarona was an innovation and a motivational model for further settlers to the country.
Over the years the Sarona Colony underwent many changes. It became the residence of British Army camp under the British Mandate until the birth of the State of Israel. It then became the main location for the government offices & the Israeli Defense Forces. Renovation and development were often broached and ideas often revised. As a consequence, there was a plan to double the construction rights without considering conservation of the historical site. Fortunately, the public and Council for Conservation of Heritage Sites in Israel intervened. An alternative plan for the Sarona Complex was devised. With the support of the Tel Aviv Municipality, Ahuzot Hahof company, Israel Land Administration and a number of private interested parties, the original streets of the settlement were conserved. Original structures and exterior wall designs restored to their former glory, were also part of this major restoration.
Sarona Complex in Tel Aviv will take you back in elegant time and spark your imagination. Enjoy the present but do remember the past!
♥Sarona Complex in Tel Aviv