I came across a quirky looking store in Tel Aviv while following my graffiti trail. Not having seen it before, I inquired if my cousin knew what it sold. She shrugged, smile sweetly and on six inch heel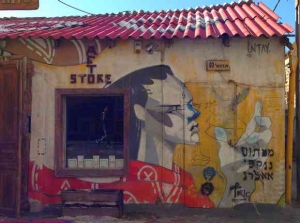 s ho
bbled inside. Following closely behind, I was visually assaulted by walls and walls of colorful, eclectic art.
 It turned out that this playful looking store called Under 1000 holds artworks by
Israeli artists
and graffiti artists at prices that are affordable to most pockets. The idea being that instead of owning something massed produced from mega home-wear stores to hang on your wall you can own a unique piece!
In essence, it enables most people yours truly included, to purchase original art without the need to enter a formidable gallery with an intimidating atmosphere. Plus, the advantage of a reasonable price tag', a focal and talking point for your sitting room.
It made me think that given this opportunity anyone can become an art collector without hitting the likes of Sothebys or Christies! I may have to talk seriously to Sweet man regarding my next birthday present….
The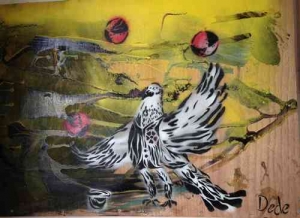 art store in south Tel Aviv is a friendly and welcoming place, neither pretentious nor snobby. Rather like a well worn boudoir and open for less than two years it has already become a talking point for locals.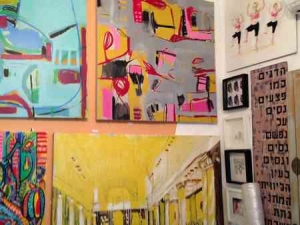 Everything is sold at $1000 (or shekel equivalent) or less, so the public can actually purchase a one off work or a piece from a limited addition. An imaginative painting, print or unique drawing  to be had without breaking the bank !
In Tel Aviv art is usually way beyond the average budget. However in this easily accessible store, at a relatively low price we found that even a piece by an already famous Israeli artist can be bought.
Under 1000 proudly displays beautiful canvasses by Kadishman, Igat Tomarkin next to
great graffiti
artists such as Dede and Monkey Wonkey . Because there was much diversity and variety held in stock for Sweet cousin and I it was like going on an creative ex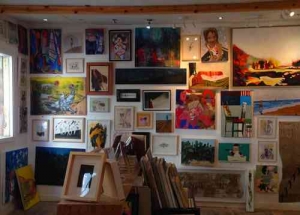 ploration!
This unusual gallery owned by Eli Edri in the trendy Tel Aviv
Florentine
district has bridged the gap for many art lovers who otherwise could not afford to invest. It brings modestly priced local talent into Israeli homes while supporting  the artisans behind the creations.
Worth a visit. If you appreciate the finer things of life you will definitely find a canvas or two. You never know, perhaps the artwork of your choice could be the next in line at auction….do I have a bid over $1000 ?
♥Under A Thousand
60, Abarbanel Street.
Tel: 972-3-652-6061