We have a new indoor Food Marke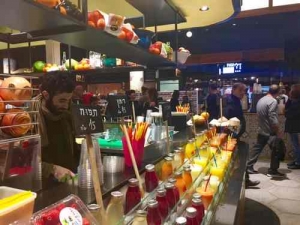 t on Rothschild/ Allenby. Tel Aviv locals think a great deal about food, talk continuously about food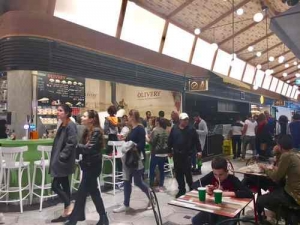 and eat a great deal. It would seem that the addition of another fast food market can only be a good thing. The location of this Tel Aviv Market, or Shuk as commonly known is ideal. For those strolling along the Rothschild Boulevard or hurried office workers, it's a perfect place to stop and have a quick but delicious bite. For those shopping on Allenby what a great place to rest up, nibble a little snack or down a glass of something stronger!
The Food Market on Rothschild/ Allenby is pleasant in design with high ceilings and gentle down lighting. Multicolored mosaic columns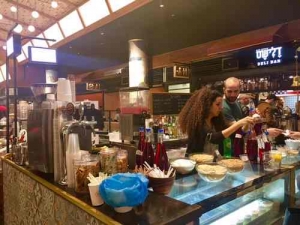 are featured throughout. Amongst the food stalls a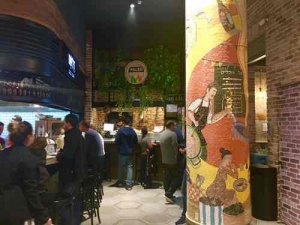 re a number of general seating areas for those too short to sit at the bar tables! Covering a space of over 1200 meters
the market has 32 outlets, including small stores and fast foodie places. The eateries offer a splendid mix of flavors from across the world's cuisine. Favorites such as dim sum, ramen, sushi, curries, crepes are all ready to be washed down with a freshly squeezed juice. Or, you can sit and drink a brew from the little cafe serving coffee, pies, and pastries. There's a tempting bakery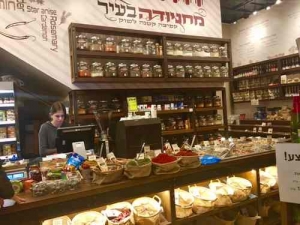 selling buttery croissants and decorated cakes. A super spice shop with aromatic goodies and sweet dried fruits. A greengrocer with beautifully stacked produce and exotic fruit. Best of all for Sweet me, there's a wine & beer shop with bottles in every color, taste, and size!
If you enjoy eating in Tel Aviv, don't mind a crowd and like to be all "Shuk"up you'll love this new Food Market on Rothschild/ Allenby
♥Food Market on Rothschild/ Allenby