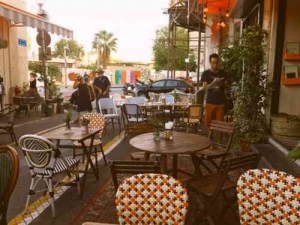 Jaffa Flea Market- Shouk Hapishpishim, as it is known in Hebrew, has now become the bohemian area of  trendy Tel Aviv. As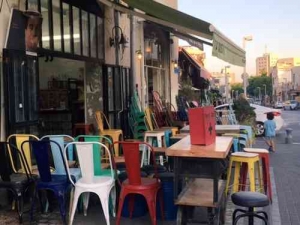 inviting and compelling as the Jaffa Flea Market still is, searching for the unusual, vintage or little found bargain, I go for
the atmosphere.  I love the quirky outlets, the bijou boutiques, the custom perfumery, the retro furniture and the narrow alley stalls selling  Judaica alongside cotton kaftans! It also goes without saying that this is now one of my favorite areas to eat. There is an eclectic mix of eateries. Small restaurants and cool cafes in abundance serving imaginative food and snacks, cocktails and beers. Ice cream parlor or  fruit juice kiosk, the  Jaffa Flea Market is complete. With tables stretching into the narrow streets of confusion and many colors, this area has a great vibe. It's a day place to shop and lunch and an evening spot to dine or drink. A perfect location to meet with friends,  listen to music and people watch.
During the daytime, I sometimes hitch a lift with a Sweet friend. We wander around the vast vintage furniture emporiums or sneak a peek into the workshops of carpentry masters polishing new life into wood that would otherwise end up in a real fireplace. T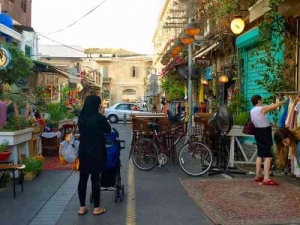 her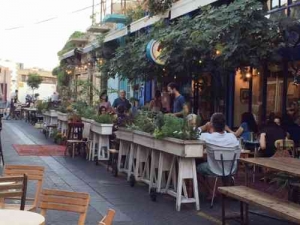 e's a lockup shop where, with the help of a creative man, unusable doors are recycled  into trendy tables or side cabinets. Then, the panel windowed premises of the clever glass guy who can magic any old glass items into an illuminating piece of decorative lighting- "ten green bottles' hanging on the wall… "
Weaving through the bustling streets, there are outlets of renovated industrial kitchen equipment. This always looks newer, shinier and more robust than my more expensive branded kitchen appliances! I view seating that my grandparents chucked to the garbage a decade ago, which now creatively covered now seem appealing.
The market stalls with vendors often looking as old as the items they sell and the stories they tell. I have never found true treasure but,  have felt quite at ease purchasing a pair of decorated china cups to sit on the  reinvented coffee table that I am yet to find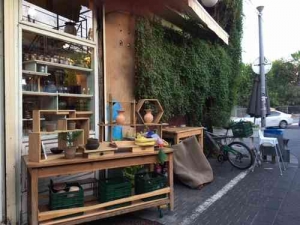 !
Do enjoy the haggling for a bargain or two, that quintessential trait that many of us grew up with.. You will definitely enjoy the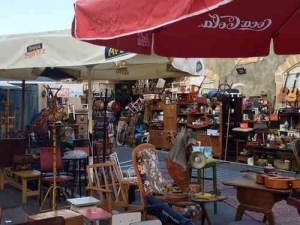 cleverly developed and unexpected Jaffa Flea Market- Shouk Hapishpishim 
Should you care to take a tour with a 'designers'  view to gain some inspiration, I recommend a lovely lady named Paula who will guide you through the Jaffa Flea Market with a fun focus on interior design, furniture & furnishings.  Just press this to be taken to the tour!  
♥Jaffa Flea Market- Shouk Hapishpishim