Friday, with a limited amount of time to spare, I desperately needed a quick stop shop in Tel Aviv so strolled briskly in my (two inch)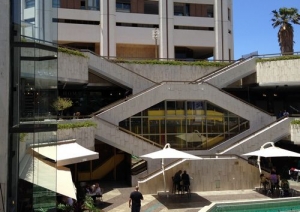 h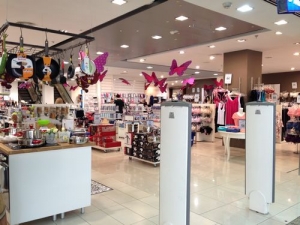 eals to Gan Ha'ir  (The City Garden) shopping mall.
This center is situated on Ibn Givrol Street next to the Rabin Memorial and overshadowed by the high Tel Aviv City Municipality building -which to my mind are both equally depressing.
Gan Ha'ir was once recognised as one of the most exclusive places to shop in the city, offering  international branded labels, local chain stores and elegant cafes , catering to princesses. Since it's openng in the late eighties however, it has been grossly overtaken by newer and more contemporary centers and hence sadly dismissed by locals and tourist alike
 During a period it became known as a ' white elephant' with no reference to size or color just expense !. But this elephant still retained his ivory tusks and is still in existence today, even if just to serve the local residents.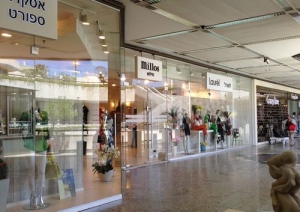 The center is well maintained with tight security (even if slightly old fashioned.)   A large uncovered water feature with spring like fountains and luscious  greenery are the center of the mall. Surrounding this on two floors are shaded boutiques, stores and cafes. A smattering of  designer shops (such as Max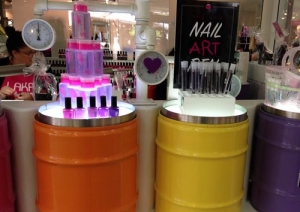 Mara) still exist together with  local brand stores selling fashion, childrenswear, home-ware and beauty products plus a large grocery /health outlet selling everything from canned goods to curry spices. Even our only long in the tooth departmental store keeps a reduced premises on the two floors.
A secure and colorful children's play area keeps them entertained and happy for a bit, whilst the Mums sit in the adjacent cafe to try and chill. A kiosk selling fresh bakery goods competes  with the established coffee joint next door and, there is even a paint and go manicure/pedicure bar. Plus this afternoon to my delight, a surprising display of large sculptures throughout the mall from Israeli artists..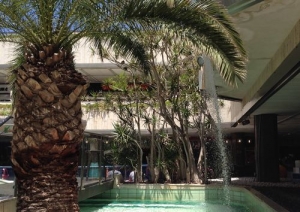 Should you become bored, at the rear of the shopping center is the actual city garden. A small pleasant and quiet park like area with pebbled paving underfoot , curved bench seating , long branched shady trees ,modern waterfalls and wide stairs leading to a gr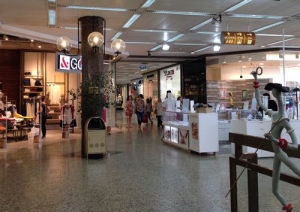 assy area.
A good place to relax for a while after all that shopping , coffee and manicuring….
 Worthwhile to visit if you are taking in Rabin Square and memorial .  Good for families.
♥ Gan Ha'ir
71 Ibn Gvirol Street
Tel: +9723-527-9111