If you're an Indian street food fan, you'll love Dosa Bar in Tel Aviv. Although this restaurant is strictly vegan, both vegetarians and carnivores will enjoy the savory and satisfying dosa served in this sweet little establishment. Hungry as usual, sweet man and I and fancied
an exotic lunchtime adventure and were not disappointed. The oversized hot batter pancakes almost french crepe like in appearance were serve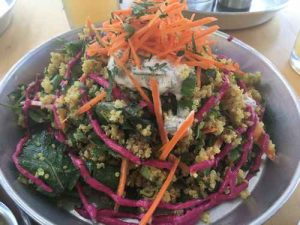 d stuffed with a multitude of healthy ingredients including delicious potatoes and chutney. For extra spice in our lives, we got sambar on the side!  To accompany the dosa, we ordered a salad which arrived crispy and colorful and made a good texture contrast to the pancake. In fact, every dish that came to other tables in Dosa Bar in Tel Aviv smelled appetizing and looked pretty scrumptious, enough anyway to stimulate my saliva juices!
In the end, I definitely had the full South Indian experience in the Dosa Bar in Tel Aviv. Attempting to fork through the dosa was a disaster for the front of my favorite shirt and a slight embarrassment to my sweet man. Eventually, I gave up and ate with my fingers which made it even tastier. We washed it all down with an Asian beer or two and wandered down Ben Yeduha street happily contented for another few hours. Oh, the romance of it!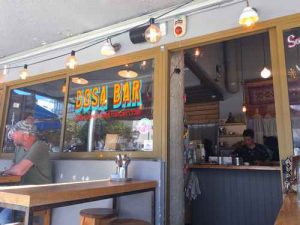 Dosa Bar in Tel Aviv is not pretentious but very simple. It is South Indian street food served from a tiny kitchen in small premises on Ben Yehuda Street. Don't expect fab decor or fancy crockery,  the place is basic but clean. So, If you like casual eating in an easy atmosphere with an affordable price tag, then do try it for lunch.
 ♥ Dosa Bar
Address: 188, Ben Yehuda St 
Tel: +972-3-6591961
Opening Hours: 12noon to 11:00pm
Friday 11.00am to 2:45pm