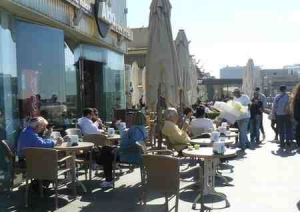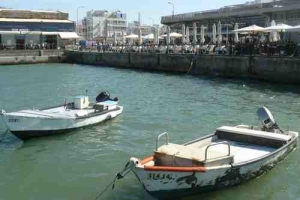 Do you like a stroll along the water front minus sand, a cafe or three and shopping? Then do join me at the sweet Tel Aviv Port, (Namal Tel Aviv). It's an area I  often go to with friends, either for breakfast, a leisurely drink in the evening, a party at one of the hangers or a morning trolley shop at the farmers market (another post). There are many well known retailers trading from pleasant boutique designed outlets. On offer is branded (local & international) clothing ,
shoes
, sportswear and quirky useful (and useless)
gift items.
There is even a discreet sex shop, should the urge take you in that direction..
Founded in 1936 by Otzar Mifalei Yam ,Tel Aviv was the first new port in Israel after the main and well established Port of Jaffa. It was constructed 25 years after  Tel Aviv became a city and was to develop into the largest port in the country with significant importance to the State of Israel. It became the entrance for  mass immigration from around world  during the period in history that people were forced to leave their countries of birth. In later years the port floundered , as containerized shipping became popular and more cost effective. Bigger ports were built in alternate areas in Israel  to accommodate and handle larger containers and so Tel Aviv port was left in a state of neglect.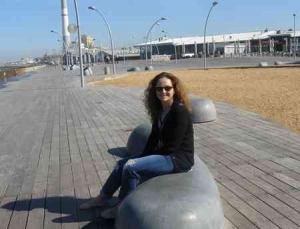 Eventually in the late 1990's and 2000,  the original developers set about reinventing the Tel Aviv Port and succeeded in making it an leisure area.  By utilizing t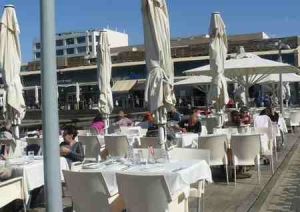 he old hangers and converting them into " people " places such as
restaurants
, shops, nightclubs and wedding venues, they managed to breath new life into an old sea dog!
I  am a sucker for outside "happening" so this is a definite favorite of mine. The splendid selection of cafes and restaurants that face the port , the deep blue waters and the gently rocking boats already in anchor.  The delight of inhaling the full scent of sea air whilst walking on planked wood flooring in the wide expanses of aesthetically pleasing pedestrian areas.
Instead of traditional seating, the promenade is scattered and decorated with huge smoothed grey stones where an exhausted shopper can rest weary bones and count how much money she has left…  Along the barriers there is even wooden step structures where you can sit and while the time away or, a bit of angling if you believe your rod is long enough to catch a fish or two … fried or grilled?
♥Tel Aviv Port (Namal Tel Aviv)