Feeling the need for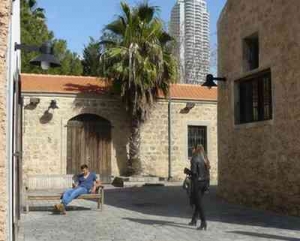 an injection of nostalgia I arranged with my cousin to meet for an ice cream and chat at Ha'Tachana in Tel Aviv. The Old Jaffa Railway Station, Ha'Tachana in Hebrew, is  in a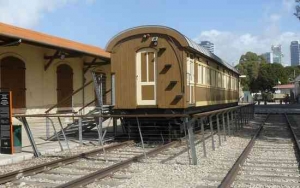 charming location just a sniff away from the ocean and a hop, skip and jump from Neve Tdekek. Although no longer a working railway station it retains some of the original structures and carriages from its hey day. It was built in in the late 1800's to serve as the terminal for the original Jaffa to Jerusalem railway line until 1948 when it eventually closed and went into a state of ruin. Sitting on a prime ( and very expensive ) piece of Tel Aviv land, it was only a matter of time until this was converted to another use. Not the ""up-cycling"" one would have imagined, but nevertheless a credible and creative idea. The old railway station was transformed into a splendid historical shopping complex, which opened in 2010.
In the keeping with it's heritage, Ha'Tachana complex includes renovated railway carriages,  freight terminal buildings, parts of the original heavy metal railway tracks plus thick wooden planks and newly paved and cobbled floors  to compliment  it all. The structures, such as a cement factory unit, have either been refurbished or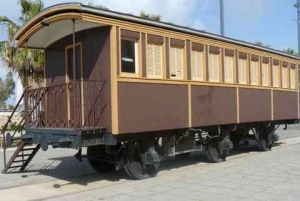 built in the style and era of the area, fortunately there are still 22 buildings remaining from the Ottoman period
There are a diverse selection of restaurants , cafes, pubs, ice cream parlors and boutiques. You can be fashion forward with your purchases from Israeli clothes designers, bountiful in bling from local jewelry creators and take home amazing mementos which are made in Tel Aviv from a savvy souvenir shop. Of course there are an number of  retail outlets selling  imported merchandise, which gives  you the opportunity to mix the local with the international amid the historical! If you are lucky you can catch street performers doing acrobatics or visit the latest exhibition of Israeli artists, or as I do, take a leisurely stroll around and soak up the scenery.
If you can recall the old train carriages of your youth ( mostly hosting pub restos? ) or those  museum toy box train sets that amused and bemused your grandparents for hours, then no doubt you will enjoy  Ha'Tachana, Tel Aviv!
♥Ha'Tachana
Old Jaffa Railway Station
Entrance on Hamered St.(corner of Kaufman St).

Opening Hours:
Sunday to Thursday 10:00 to 22:00
Friday: 10:00 to 17:00
Saturday: 10:00 to 22:00
Restaurants, cafes, pubs open until midnight on Fridays or  sometimes extend the opening hours until the last customer during the weekdays.
Entrance fee : No Charge