Dizengoff Square in Tel Aviv was named after the wife of the the first mayor of the city, Tzina Dizengoff. As I am never likely to have anything named after me, (just a few select names said about me) I cannot imagine on how she must have felt to be honored in such a manner. I do appreciate however that multitudes of human traffic pass by this centrally situated square each day. S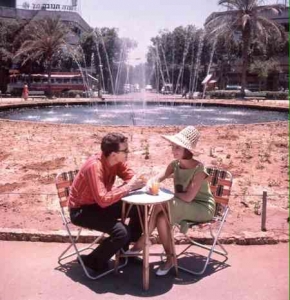 om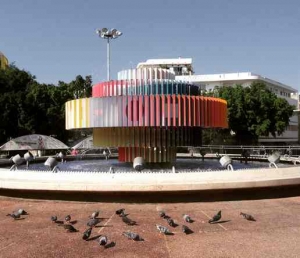 e gaze at the fountain, a few feed the pesky pigeons, some slouch on the immovable blue benches and others like yours Sweetly use it as quick hop over from one side of the road to the other. Actually I have never really given it much thought, certainly not in any depth until I saw it yesterday evening. Lit up by spot lamps in full glorious color and dancing waters sprouting with rhythm from unseen sprays in a production accompanied by classical piped music. it took me by surprise. The square became quite magical, more wizard than fairy , but never the less watchable.
Considered as a symbol of Tel Aviv
Dizengoff Square although often unnoticed, is considered to be a key symbol of Tel Aviv. Built in 1934 and officially presente
d in 1938 it was part of the urban plan executed by Sir Patrick Geddes and designed by architect Genia Averbuch. Originally in the 30's due to the design, it was called "the Étoile of Tel Aviv". In the form of the square it was a roundabout at the meeting of six streets.
Later in 1978 it was rebuilt according to the city plan, by architect Tsvi Lissar. The new design elevated the square to it's current split level structure to ease the traffic fl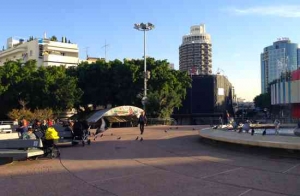 ow from the main roads surrounding it. A pedestrian 'piazza' was added with ramps and stairs connecting to the adjacent sidewalks.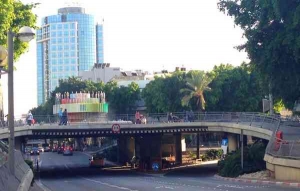 Fire & Water Fountain (1986)

Dizengoff Square always there to remind us of  our roots. The fountain in the center, the creation of the renown sculptor Yaacov Agam is a iconic expression of Fire & Water. The waters streaming against the many colored grooves,  the sprays in varying shapes and formations, the spitting fire and the soft music gives this three dimensional sculpture an ethereal quality.  It remains a solid but pleasant presence in the square, a recognizable piece of our history.  A little anchor of art attached to the past in an ever developing city.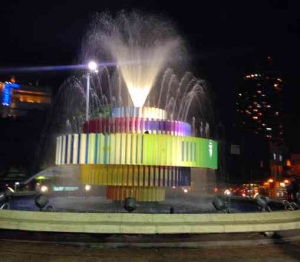 ♥ Dizengoff Square