Join us for Israel Independence Day 2019 as we celebrate our 71st Birthday in Rabin Square in Tel Aviv. On this amazing day, we shall commemorate the historic events which lead us to establish our beloved State of Israel. This is the day when all the citizens of Israel plus Jews and Zionists everywhere rejoice in the existence of this wonderful country. Against all odds, trials, tribulations and more than a fair share of trauma, we honor our being and give a jubilated thanks that we have a country to call our own. On the evening of Wednesday, April 18th, 2018 we commemorate Yom HaAtzmaut – the Israeli Declaration of Independence in 1948. According to the Hebrew calendar, the date is 5th of Iyar. Yom Ha'atzmaut is preceded by Yom Hazikaron, the Memorial Day for Israeli Fallen Soldiers and Victims of Terrorism. May we never forget each and every son and daughter of Israel. In Tel Aviv on Israel Independence Day 2019, we will enjoy concerts and fireworks at Kikar Rabin close to festive flag colored lights of the city hall building. We will dance and sing and get into the vibe at the street parties in the hipster southern districts. We shall view from the beach an awesome display of acrobatic feats from the fleet of the Israeli Air Force. As a matter of long tradition, we will eat barbequed food or "Al Haesh"  (on the fire) as locally known in Park Hayarkon along with a million other like-minded, hungry TelAvians!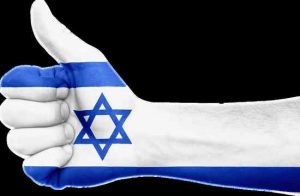 A jolly time will be had by all! So, from Tel Aviv the "White City" to the Blue & White of this amazing country we take much pride in our 71st Birthday and thank each of you for your continued support of the only Jewish homeland in the world.
Am Yisrael Chai!   
♥ Israel Independence Day 2019! YomHa'atzmaut Sameach! Happy 71st Birthday Israel!