Do you have a penchant for prints or a passion for pattern? I know a lovely lady in Tel Aviv who does!  The Colorful Clothes Creator, Tamar grew up in a northern Moshav community with little knowl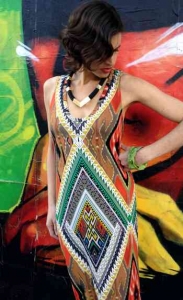 edge of fashion but a lot about farming. Her duties in the small community taught her a clear work ethic and self-sufficiency. Having limited creative outlets, she channeled her artist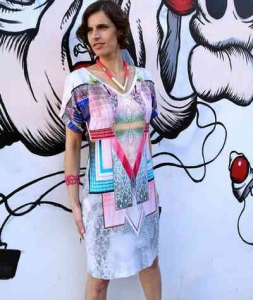 talents onto paper, canvas and any other media she could find, to paint happy colorful pieces with oils, acrylics, and watercolors.
Tamar had a special communications job during her service in the IDF including organizing extracurricular activities. This gave her a deep insight of how to approach people to get the best response from them by using her subtle charm and none effusive manner. After her military service, she had the craving to spread her w
ings and explore different continents, which was not a small feat coming from the closeted environment of her early youth.
Tamar found herself traveling around Mid and South Americas, South East Asia and India where the scenery was as colorful and exotic as the people. In order to survive and continue her wanderlust, she sold various artwork in the local communities to whoever would be charmed enough invite her in! She had discovered another world. A paying outlet for her artist eye and people skills but, although travel inspired her creative juices, she had not yet discovered the exact direction in which a career would follow.
Having seen a more cosmopolitan life, Tamar decided to head home and settle in bustling Tel Aviv. It was in her last week in India that she met a fabric importer who convinced her that she had the aptitude and style to enter the fashion arena. Her friends concurred that he was indeed correct as they had always encouraged her to pursue a career in women's clothing design.
The idea was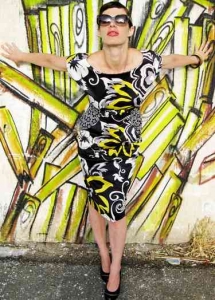 appealing and so Tamar enrolled in sewing, pattern making, and design courses. She perfected her skills by continuous hours of cutting and sewing at home in a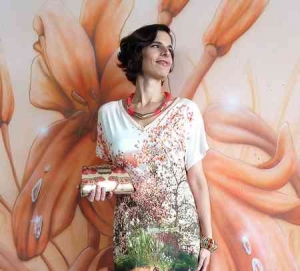 makeshift workshop, developing, producing and remarking garments until she was satisfied that her designs were beautiful enough to sell.
Her love of color and pattern in all things directed her to primarily concentrate on printed garments in simple but contemporary silhouettes. These are created only in beautiful quality natural fabrics such as drapey jersey cotton or paper wispy silks. Tamar cleverly uses placement patterns as features, ensuring that the print is situated to be in the most flattering area of the body. She uses whimsical floral designs, stunning geometric or painterly prints in vivid bright and sexy soft colors.
Her home studio in Tel Aviv is emporium alight with pattern and color. Her unforgettable clothes are created on her cutting table, surrounded by yards of fabrics stacked high on shelves. Her sewing machine always threaded and ready for action! She will create a garment in your size within a few days subject to the availability of fabric in the print you require.  Her service is couture, but at her designs are at affordable prices.
Prints have become Tamar's niche market so, each time I am feeling a little down and need an uplift, I contact her to buy a happy dress to add some color to my life!
Face Book – Tamar Ziv Womens Fashion Designer