At the beginning of the S
ummer
season there is a wonderful energy which bounces off  each Tel Aviv Beach.
Pale soft grainy sand ge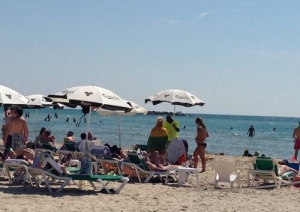 ntly massages underfoot, the still chilly ocean embraces feet and legs ( I am yet to dip in further than knee height) sending chills up the spine and sprouted goose pimples on the skin. Although the Tel Aviv weather is still unsettled the feeble sun continues to gently beat down with a special but kindly intensity, warming up gradually and seemly just for you.
There are people of all ages, old or young friends, loving couples, singles (maybe looking for love),  families with children of all sizes and overworked, tolerant but slightly sweaty,
beach
assistants. All are overseen by experienced bronze skinned sun-aged life guards. These well worn chaps bellow out instructions to bathers to refrain from swimming where the undercurrent is deceptively dangerous, cry for help from the sun worshipers when needed to locate a wandering  child or (the best) when boredom sets in, crack silly but amusing jokes in as many languages as they can muster! Look around and there is a rainbow of color on the beige base with the bikini clad females and patterned hatted children. A mass of sunglasses of numerous shapes and wildly expensive designs protecting the  eyes of the wearer whilst mirroring the light and movement which surrounds them. Deck chairs and lounging beds are covered with a multitude of cotton
beach
towels, multicolored and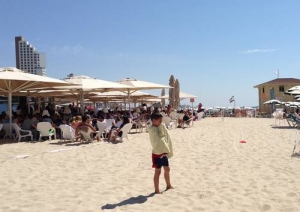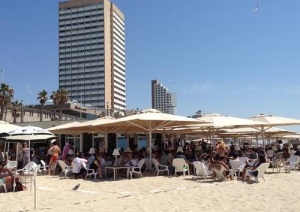 printed or hotel laundered and white, all large enough to multitask as bed cover, dryer or cover up.
The established but weary ice cream seller who has been trekking up and down the beaches since before there were beds to lie on, remains reliably  consistent , shouting out his wares ( in a hoarser voice than  once was) plus now, since the influx of French immigrants adding French to his repertoire.
Beach
cafes are once again starting to fill up, their clientele comfortably seated in
beach
chairs eating moreish snacks or full blown lunches, chatting to friends about their week whilst under canopies that shade the glare of the sun but give a little respite to the heat. All are overlooked by the towering and impressive Tel Aviv beach hotels with their dampened white beach towels waving as flags from the sea vei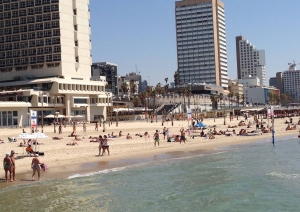 w balconies.
So regardless of weather forecasts 
Summer
begins, welcoming you to
Sweet Tel Aviv!