You don't have to be rich to enjoy yourselves in this city. There are lots of free things to do in Tel Aviv. The city caters for all age groups and is very child oriented (and loving) Whether you want to chillax on the beach, be amazed by art, visit a historical house or be stimulated by a bargain in the local markets we have it all for free!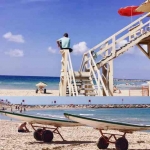 Beaches in Tel Aviv are free of charge. With 14 kilometers of golden sand to choose from, you can use a different spot each day! Each beach has usual facilities such as restrooms, outside fresh water showers and a play area for children. Many have a mini exercise area. If you stretch out on your towel or relax on a bench it's all for free. Should you wish to hire a sun lounger, chair or parasol there are minimal set fees.
Israeli Folk Dancing at Gordon beach on Saturdays, should you wish to show off some fancy footwork!  You can join in the fun and 'step' in or out anytime you wish! June til October 19:00,  November til May 11:00
Exercise in the sun but under the shade! Outdoor Gyms on the beaches to keep you in shape after indulging in the delicious cuisine in Tel Aviv
Mini Playgrounds in the sand for our young friends. Climbing frames, swings, and seesaws keep the children happy & occupied !
Street markets are a way of life in the city. Take a trek through the Carmel Market. Open daily for fresh produce, tasty street food and lots of unusual characters.
Shopping for a real bargain? Hunt through the rails of clothes at the daily Bezalel Market, in King George Street You will never go naked in Tel Aviv !
For collectors of eclectic, vintage, designer and craftsmanship go to the Flea Market in Old Jaffa . It costs nothing to be seduced by the fashionable boutiques, stimulated by the secondhand stalls or amazed by the creative upcycling. But do stop for a beer so you can listen to the street music in the evenings.
Handmade and crafted with passion. Talented people fill their stalls with their wares in Nachlat Benyamin Street. A market of artisans on Tuesdays and Thursdays.
The Port of Tel Aviv where you can while your time away. Relax on the smooth stone like seating and supervise the kids who play freely on the decking. Visit the colorful Farmers Market for fresh produce & free tasters!
Old Jaffa Port for free exhibitions in the containers. Otherwise, you can just look out to sea and count the fishing & leisure boats anchored in the harbor.
Bit of a bookworm ? We have Street Libraries in two locations, Rothchild Boulevard & Yad Binyahu (HaTikva Garden) Browse and borrow for free. Reading material available in 5 languages.
Visit the home of one of the greatest names in Israel, Ben Gurion House. Learn the history of this complex character and his impact on the country from this simple abode.
If you are interested in the of the development of Tel Aviv, the Herzl Lillenblum Museum is the place to go. Covering the economic history of Israel too, it's worth a wander. Viewing by appointment only. Sunday til Thursday 09:00-15:45 Friday 09:00-12:45
Shalom Meyer Tower just off of Rothchild Boulevard will whisk you back in time. Photographs of the cafe society, cinemas of the past, original architecture, models of the city & mosaics. A wonderful visual tribute to Tel Aviv.
Artist House will introduce you to some local artists; painters, sculptors & jewelry designers. The exhibitions change each month and the building itself is an art piece!