Living in Tel Aviv with a sunshine climate does occasionally have some niggling negatives. I am referring to the high summer humidity. This can make even the straightest of hair frizz like coriander l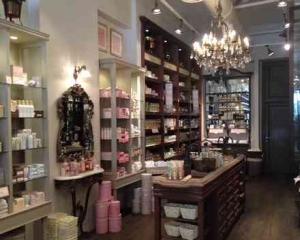 eaves and form tricking droplets of perspiration whi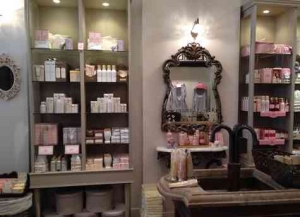 ch make the skimpiest of clothes feel like a tight wetsuit!  So it is fortunate that we have some wonderful scented products from Sabon (soap in Hebrew ) that at least can make us stand out from the sweaty crowd by smelling sweeter!
I am particularly partial to all that is pretty and that includes packaging and products. If the shop that I am mooching around in has delightful displays then as all shoppers, I am more than likely to make an impulse purchase ..or two.
I love the Sabon shop in Sheinkin Street in the heart of the City and decided to drag my sweet galfriend with me for a morning of perfumed indulgence. So for the price of a iced coffee and buttery croissant she kindly agreed to accompany in my quest. Walking down Tel Aviv's famous Sheinkin Street was no easy feat. Firstly due to the interesting window distractions and, secondly due to the pure physical exertion of  trudging along the pavement in trendy wooden heals..
Seeing a metallic mobile display of soap cakes in the guise of  actual cakes I knew we had finally reached our destination. Entering through the door with a blast of coolness an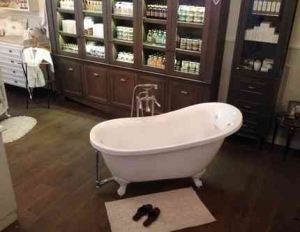 d a great waft of fragranced air we embraced the emporium as if we had seen it for the very first time. The Sabon shop is simply beautiful. Warm, inviting, stimulating for the eyes with apothecary bo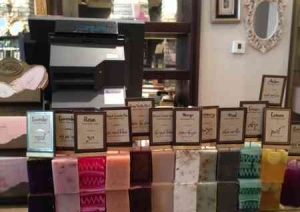 ttles, patterned boxes and vessels of all colors and sizes. Walls displayed with shelves or dressers  filled with magical aromatic soaps, lotions, creams, shampoos and scrubs. Tables and tops promoting cellophaned gift items delightfully dressed with bows and baubles. Long cakes of hard but creamy soaps in fabulous 'formulas' ready to be sliced into working bars. Then the lower floor. This is a area designated to lifestyle, lifestyle utilizing Sabon home and body products along side pieces of furniture to increase your desire to buy. As if I needed any more encouragement!
Sabon is an established Israeli company, which began in 1997 from a small Tel Aviv home soap making business. This successful company now exists all over Israel, Europe, New York and Tokyo. Using nothing but the finest natural ingredients selected by developers in Israel, the products are both healthier and environmentally friendly. Way up on the environmentally conscious scale, Sabon recycles paper, plastic and glass, plus use recyclable packaging and biodegradable packing material. None of their products are tested on animals.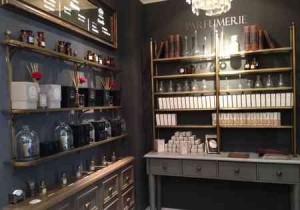 Great for a blast of perfumed sweetness, candy for the eye and thoughtful gift shopping for a sweet friend or loved one!
28, Sheinkin Street
Tel:+972-3-629-6233