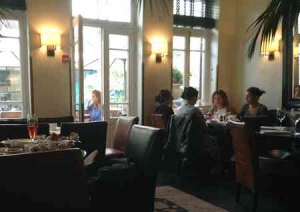 Thursday morning, whizzing around Tel Aviv to do my chores before the influx of  Pride Parade visitors, sweet niece said hey chill & let's go for breakfast. Not needing much encouragement, I stopped being a whirling dervish and accompanied her to the Hotel Montefiore for a bountiful breakfast in a bijou setting. I am somewhat amazed (but always thankful) for my  large capacity for food and pray tha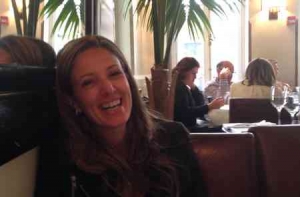 t my metabolism will continue to burn up the vast amount of calories that I feed it …without added extra hours in the gym…..
The Hotel Montefiore, situated on the street of the same name in the heart of Tel Aviv is an renown elegant boutique hotel just a couple of minutes away from Rothschild Boulevard. It is an ideal location for a long stroll after you are so full you believe your legs won't take the weight of your well nourished stomach. The restaurant is positioned on the ground floor hidden by the small reception area. With a turn to the right past the well stocked bar through an narrow but adequate entrance, you reach the inner sanctum,  a delightfully furnished fine dining room.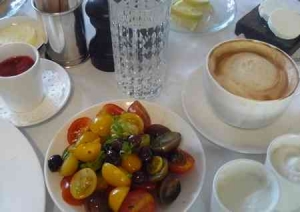 The restaurant is a take on a sophisticated brasserie, with sharp white tablecloths, charmingly classic cutlery, heavy d
ark furniture, tall palm plants, huge gilded mirror and a white paneled ceiling . Seating by the windows is  always our favorite, as there is a view to the sweet outside terraces where breakfast can also be taken. The overall impression is a dining room for the 'well healed' but actually the clientele is mixed, locals, out of towners and tourists. On this occasion seemed to us that there were a large portion of morning off mums!
Just as the decor the breakfast is impressive too. But a word of warning. This is not a place to just order two Israeli breakfasts, the breakfast menu consists of other delights which are simply to good to resist. Gorgeous niece and I are always pro sharing so we get a spread of flavors. We ordered a delicious eggs benedict based on sour bread, complete with spinach and a buttery dollop of  sauce plus one Israeli style breakfast, consisting of cheeses, soft and goats, olives, muesli yoghurt, eggs as you like 'em and a colored cherry tomato salad. For Israeli standards the quality was high but content limited . For us however, it was enjoyable and more than sufficient for breakfast. A full bread basket including robust but light carroty muffins ( that niece devoured in three seconds), served with creamy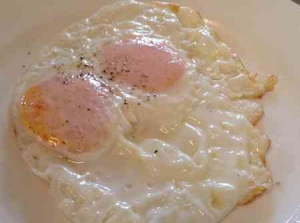 butter and jam, freshly squeezed orange and a really good cup of coffee.
Our waitress was both pleasant and attentive and I felt contented and chilled!  A Sweet Tel Aviv breakfast experience.
♥Hotel Montefiore
36 Montefiore Street.
Tel: +9723-564-6100
Reservations: Highly suggested ( although you drop in on the off chance)
Breakfast Hours: Sunday – Thursday 7:00 – 12:00
Friday 7:00 – 17:00
Saturday 7:00 – 13:00