You may believe th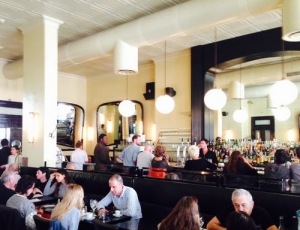 at I eat out all the time, but its not altogether true as my better half is a fantastic cook but requires inspira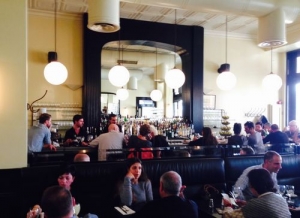 tion from time to time. Occasionally (no smiling please),  I like to experience new tastes or take a trip down memory lane. Yesterday was just that, short lunchtime visit to Paris  via The Brasserie restaurant in Tel Aviv.
Situated opposite Kikar Rabin (Rabin Square), this is a well established and favorite eatery of many. They serve a
splendid breakfast
(somewhat helped by the fact that they own the tantalizing bakery next door) a pleasant lunch and delicious dinner.
The decor is reminiscent of most of the classic brasseries in Europe, an Art deco type interior, high painted ceiling with exposed air conditioning pipes, glass doors with Belgium profiling , dark elegant furniture, parquet flooring and pure white accessories. Massive mirrors back the
bar
and line the walls, so reflects the colorful array of alcohol bottles that line the shelves and give the illusion of more space to the whole interior  The atmosphere is relaxing yet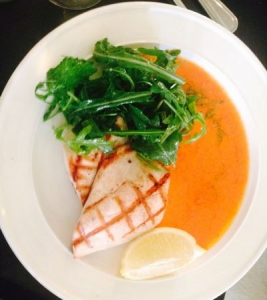 luxurious and the service attentive. The place appeals to all age groups and is inevitably busy most hours of the day.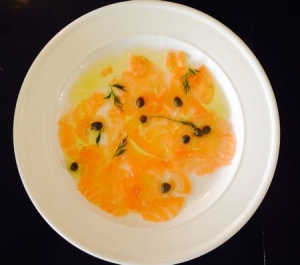 The restaurant serves French cuisine in it simplistic forms, juicy steaks,
succulent fish
prepared with flair, beefy wholesome burgers including bun and pomme frites (skinny potato chips by any other name) and special dishes according to the season.
Hubbie and I added a glass of Chardonnay to complete our French  experience ( and were actually smiling at each other by the end of the meal) and munched our way through a delightful lunch.
70 Ibn Gavriol St.
+972-69671111
Reservations : recommended