It's Saturday with a glorious bright sky, a warming of the bones temperature and that unmistakable feeling of weekend wellness. What to do in Tel Aviv? Why not a pleasant and interesting stroll along one of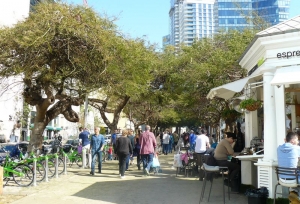 the White City's most famous streets, Rothschild Boulevard.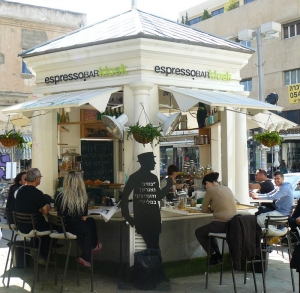 After the ritual morning coffee, (skinny milk and now only half the sugar intake) off I set with hubby in tow towards the most "richly" named of all Boulevards. Beginning our healthy walk at the junction of Herzl towards the finish line at the Habima National Theatre.
The Boulevard was originally named Rehov Ha'Am which literally means the road of the people,( very apt considering its always concentrated with them), but later at the behest of the local residents was renamed to honor Baron Edmond James de Rothschild  for his generous contributions to the State.
The French Institute building on the corner of Herzl ( super professional French lessons) where we started our journey, was built by one of Tel Aviv's founding families i
n the early 1900's, purchased in the early 2000's and delightfully restored into the landmark presence it is today.
The boulevard is a wide magnificent leafy street with cemented pedestrian walk ways and a  two direction bicycle lane (complete with floor signs). This is flanked by side beds of earth housing knobbly long trunk trees, including India ficus, whose outstretched branches entwined forming a fabulous green shaded canopy across the
walkway.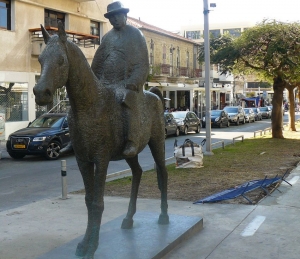 On both sides of the boulevard sit buildings of stunning diversity. Modern glassed towers, contemporary designed constructions, historically important Bauhaus structures, (included as part of the" White City of Tel Aviv "- UNESCO designated World Heritage Site) or relics, not yet renovated or old enough to be preserved.
Many of these buildings house influential financial institutions, headquarters of international businesses and banking corporations, as well as those fortunate enough to reside there.
The lively strip of some of the trendiest eateries in the city, an abundance of cafes supplying their own brands of aromatic coffees and the easy welcoming atmosphere attracts people from all walks of life, strolling with their loved one (including pets), eating, drinking and laughing, with the sun on their
backs and the city in their hearts.
I particularly love this jaunt down Rothschild Boulevard as each time I do it, I see something new and surely that is always worth a journey!
P.S Had to stop off for Brunch see my next post,,,,,
♥ Rothchilds Boulevard