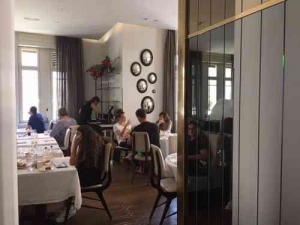 A Thursday morning, on a promise to meet Sweet friend, I finally arrived for a Tel Aviv Breakfast at the Norman Hotel. Trying to avoid the crowds on their way to work, I had weaved my way along the pretty Tel Aviv sidewalk until I reacTel Aviv breakfast to an attentive audience!  Encouraged by the calming cool air-conditioning, the elegant setting and the bountiful buffet, I promptly sat down at a table laid for two.
Knowing that my Sweet BFF would be a little on the late side I ordered my first cappuccino of the day and 'sipped' in my surroundings. This was served in delicate white bone china which complemented the white tablecloths and traditional silvered cruet set. The atmosphere was pleasantly relaxed, alive with soft chatter but without being invasive. Unlike most buffets in Tel Aviv hotels, there was no queue but a respectful distance between clients selecting their dishes. There was not an overly huge selection but everything looked fresh and appetizing.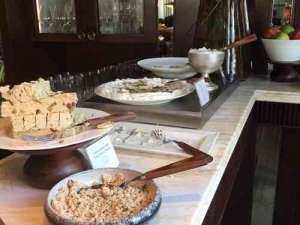 When girlfriend finally made an entrance, I suggested we dive in before getting too comfy in the upholstered seats. So with empty plates at the ready, we loaded them with savoury quiches, salads, cheeses, smoked salmon and other mouthwatering goodies. And that wa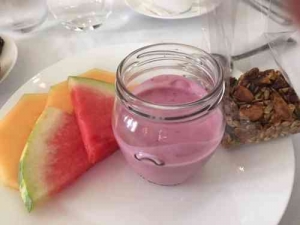 s just to start…. I am always amazed at my capacity for food, especially when it comes to a Tel Aviv breakfast. Needless to say,  both Sweet gal and I returned for top ups , a little of something sweet and a freshly squeezed juice to wash it down!
The Norman Hotel  is situated on the junction Nachmani Street and Melchett Street. Its location is in the heart of Tel Aviv's White City, which  is a renown UNESCO area of elegant structures built in the Bauhaus style. The Norman Hotel is also only minutes away from Rothschild Boulevard. So, after filling yourselves full with delicious buffet delights, the area is ideal for a long stroll to reduce a few calories. Hopefully, this will also be a historical learning curve to 'drink in' some of the amazing Tel Aviv architecture and renovations
Both the decor and the breakfast are impressive at the Norman Tel Aviv. There is the choice of the breakfast menu or the unlimited buffet. Should you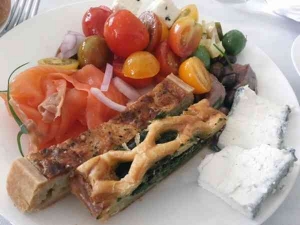 like an egg dish to accompany the buffet, the price is higher. This breakfast is not inexpensive by local standards, but th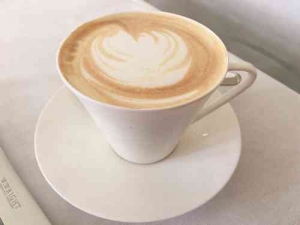 en it is not a usual Israeli breakfast and, is served in one of the best boutique hotels in the city. The quality is high and very  enjoyable. Service is pleasant and although the waitresses were Sweet, they were a little over zealous. Whipping away my cup before fully drained was a bit weird, but quickly replaced! Catering to international and local clientele can be pretty daunting.  This was a Sweet Tel Aviv breakfast experience. The company was good and the coffee excellent. Enjoy!
♥The Norman Tel Aviv Breakfast
23-25 Nachmani Street
Tel: +9723-543-5555
Reservations: A must
Breakfast Hours: Sun-Thurs 7:00am–11:00am, Fri 7:00am–3:00pm, Sat 7:00am–3:00pm