When the summer weather is bright and not too humid, I like nothing more than wandering through Shuk HaCarmel in Tel Aviv. Looking for a bargain or stocking an empty fridge, this is the ideal place to get inspiration.  My fridge is often devoid of anything that looks or smells remotely fresh. Sometimes, even the food cupboard could do with some spicing up. So where better to buy delicious produce including exotic fruit, fres
h shimmering fish, prime cuts of meat and poultry but in the  Shuk HaCarmel in Tel Aviv. Of course, there are also those en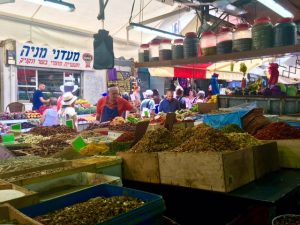 ticing stalls of aromatic herbs & spices, dried and blended, and displays of succulent olives, black and juicy or green and piquant. Freshly baked bread or pita and sticky sweet honeyed cakes line the market, together with heavenly halva in tantalizing flavors to taste along the way!
With my vintage wheely trolley in tow and sufficient funds in small change within my purse for necessities and more, Shuk HaCarmel in Tel Aviv is my longtime go to market. I am fond of the leisurely stroll along Allenby street to this Aladdin's cave of goodies.
Often at the entrance of Shuk HaCarmel in Tel Aviv, street musicians with makeshift instruments play loud attention seeking music competing with the passing traffic. Willing but transient audiences gather round, donating small shekels sums for being entertained. This, together with the rumbling of incessant voices further creates the impression that there is a circus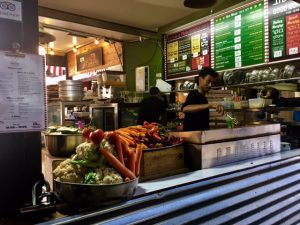 of wonders to come.
The uneven stream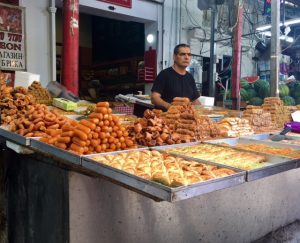 of human traffic runs into the narrow walkway. Each side is lined with over packed colorful stalls selling inexpensive clothing, pictures, mobile phone cases, toys for kids and pets, useful and useless household gadgets and a plethora of other inedible stuff! Within this slightly claustrophobic environment, the sound of competing traders makes the market come to life. With the banter of old jokes and retold stories, the atmosphere is charged with energy and experience. A mass of blooms in every imaginable color and the cleansing scent of Eucalyptus brings back a little of nature's beauty in the midst of this unsightly but intense market.
Shuk HaCarmel in Tel Aviv is also now a culinary paradise specializing in superb street food. I enjoy a good nosh and here are some delightful and tasty options. For fast food and not too costly then there are the traditional Mid East food options, such as hummus or inventive eateries such as Bar Ochel (Bar Food). In addition but up a notch or two are the likes of  M25 Meat Restaurant or HaBasta Bar where you will lunch or dine in gourmet style with prices to match! Both options are equally delicious depending on your fancy or finances!
Shuk HaCarmel in Tel Aviv is a favorite with many, so go visit to find what the fuss is about!
♥ Shuk HaCarmel in Tel Aviv (Carmel Market)