Looking for a unique gift? The place to find it is definitely in the 
Nachalat Binyamin Market, Te
l
Aviv.
 This colorful Arts & Crafts Market is located in south
Tel Aviv
adjacent to the infamous 
Carmel Market.
 From the late 1980's this eclectic street has hosted many talented artists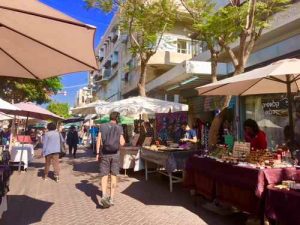 and craftspeople who lovingly display their creati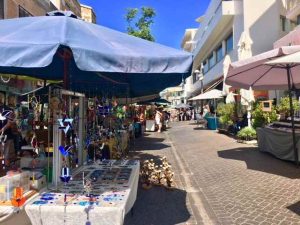 ons on temporary market stalls. They will happily chat with you and explain the material, source or inspiration of their handcrafted products. When I am stuck on what to buy as an interesting gift and need something sweet but neat, I visit  
Nachalat Binyamin Market, Te
l
 Aviv.
 Friends and family seem to much more appreciate an item with more individualism and creativity than the chocolates that I usually muster up! (Although I don't know that a decent bottle of wine is totally out of the question..)  If you enjoy being outdoors as I definitely do and are searching for a handcrafted present or just like craft markets then an easy stroll through
Nachalat Binyamin Market, Tel Aviv
on a Tuesday or Thursday is a must on your to-do list.
Over 200 craftspeople display and promote their products on their specifically allocated stalls sited according to a street number. Items ran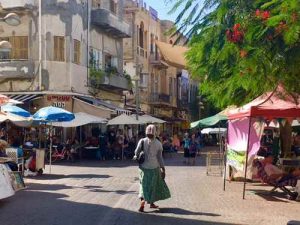 ge from pretty pottery ornaments or religious usable objects, (Jewish & Christian), statuettes, carved wooden signs, hand-blown glass, intricately designed jewelry, whimsical pictures and silk hand-printed scarves. There are even beautifully glazed hamsas (palm-shaped amulets) popular in the Middle East, supposedly to ward off the evil eye (no blinking please!). Each handmade product is developed and executed in the finest fa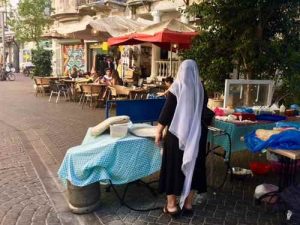 shion and displayed with care by the artist. But not all craftsmen are permitted entry. Prior to trading all products are vetted by a committee who decide whether they are worthy of a spot on Nachalat Binyamin Market, Tel Aviv
Apart from the market with its array of colorful stalls and talented craftsman, there are other pluses. Nachalat Binyamin street is well known for its multiple fabric stores. Whether you wish to make clothing, update home furnishings or upholster a vintage chair there's a yard or two for you at a cheap price! If you fancy a snack, a meal or drink Nachalat Binyamin street can easily provide a tasty bite or two in any of its casual eateries. So a day out at  Nachalat Binyamin Market, Tel Aviv is more enticing as than just the Arts & Crafts!
♥ Nachalat Binyamin Market, Tel Aviv
Tel Aviv
Crafts Market :Open : Tues & Fridays from about 10:00 am