We don't have the motorway in Tel Aviv, but we sure take the 'highway' to M25, a restaurant in the Carmel Market! Hungry as usual,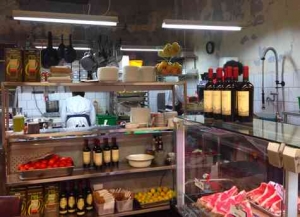 sweet ma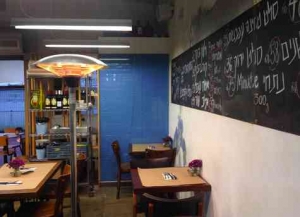 n and I fancied an adventure. Thinking we might partake in a quick something and beer in the shouk we wandered through the colorful fruit and veg market. Everything smelled appetizing and looked pretty scrumptious too but, didn't exactly stimulate the saliva juices.
My better half decided he wanted to eat meat. 'Caving' in to my caveman's wishes we went in search of the M25 restaurant, the carnivores paradise in this Tel Aviv market
As it was late for lunch plus too early for dinner, we were fortunate to have a choice of table and full on attentive service from the waiter. M25 is usually buzzing with bodies with a queue that rivals the passport office!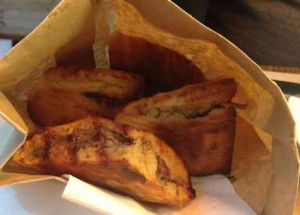 Although it is a mighty meat restaurant I have eaten here before with a couple of vegetarian friends. The salads are super and the dressings delicious. Of course, there are the additions of Middle E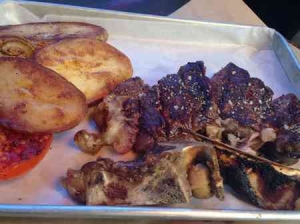 astern staples such as hummus, tahini and pita bread, so no one need go hungry..
We went through the menu- literally! My man made ravenous by the exhausting walk through the bustling Tel Aviv street market was determined to try everything! He ordered the fresh green salad with a sharp tangy dressing, tomato salad served with a creamy garlicky lemon puree and crunchy kebab stuffed pita bread served in a paper bag. One might have assumed that this was enough for the man who only wanted a nibble but, on seeing the fresh meats displayed in the cold cabinets he had to go the full monty!  A succulent tender steak was served with oven roasted potatoes and a skewer of juicy lamb cubes for us the share. Ah the romance of it! Two glasses of red wine and we nearly singing on the way home…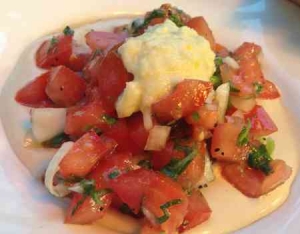 If you love red meat, like a casual atmosphere can accept a basic decor and afford a price tag that is not unsubstantial, then do check out M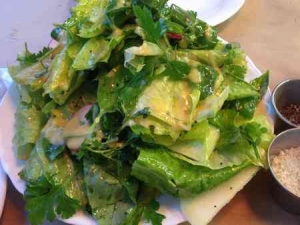 25.
A trip to the Carmel Market in Tel Aviv is fun and the food in this restaurant is uncomplicated and tasty.
♥ M25
Address: 30, Simtat HaCarmel
Carmel Market
Tel: +972-3-5173086
Opening Hours: Sun – Thurs: 09:30 to 17:00  & Friday: 10:00 to 16:00