Sashaying their way back from Singapore to Tel Aviv I met with my enthusiastic expat friends for a catch up in the Carmel Market.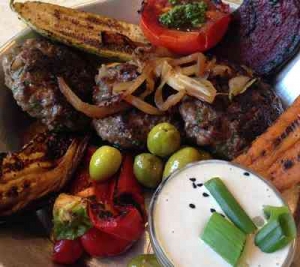 The weather unfortunately was detrimental to a long shopping expedition but drove us to a gasping thirst that only high humidity can. So, in searc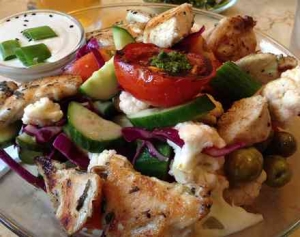 h for a very long cool beer and some energy building grub we sniffed our way through the many sticky, sweaty bodies to the heavy aromas of the Bar Food (Bar Ochel)
Situated amidst the cheery chaos of the market is this little food haven, serves authentic Israeli cuisine in a happy  atmosphere created by the cheerful efficient staff and hot but hungry clients. Grilling food smells waft through the air whilst long glasses glisten with water droplets from ice cold drinks.  The Bar Ochel is actually fast foodie stall which is open to the elements towards the market complete with bar seating and an addition of  a 'lock up' space which opens to 'inside' seating. Already established for five years, this Tel Aviv eatery is undoubtably a permanent fixture offering a sure, speedy stop off for locals and tourists alike who crave a traditional bite of of Eastern cooking and a cold beer to wash it down.
The menu consists of hearty favorites such as kebabs, Jerusalem mix and shakshuka. Produce sourced directly from the market are converted into lovely warm antipasti dishes or tasty dressed salad dishes. Needy are the greedy, so we collectively decided to cover as many flavors as possible!  We  opted for succulent beef kebabs, grilled sliced chicken breasts embedded in a array of salad, antipasti of  smo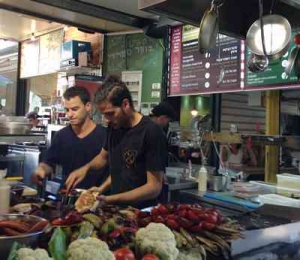 ky grilled eggplant, beetroot, carrot and tomato and a deliciously interesting cauliflower combo with t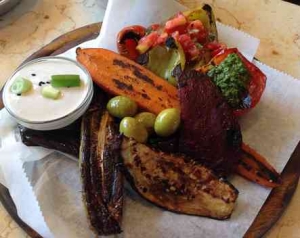 urmeric and tahini. Our dishes were served with dips of varying spice heat and fresh crusty bread.
Hearing our mix of languages, I talk not in fork tongue, we were treated to a shot of Arak to go with the draft beer (two kinds) . I don't know which drink was the chaser but we nearly had to be chased off our stools as forgetting the time we very nearly outstayed our welcome!
A must for a quick munch and beer in between the healthy haggling and it really won't make a dent in your pocket!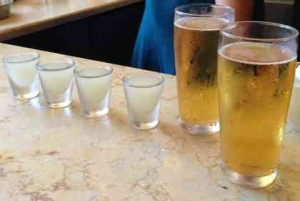 ♥Bar Ochel
38, HaCarmel St
Tel:+972-50-9157756
Price: Inexpensive
Opening :
Sunday-Thursday: 09:00-19:00
Friday: 09:00- 16:00