Last week Sweet girlfriend decided to venture into Tel Aviv for a short but Sweet visit. Her intention was to do some chores & drag me by my curls for lunch! Having read my post about a restaurant in the Carmel Market many moons ago she had a fancy to try it. Up until this day  she had not stepped into the 'shouk', even to smell the food let alone taste it. So it was a well overd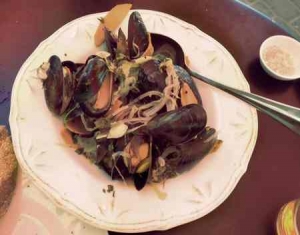 ue date.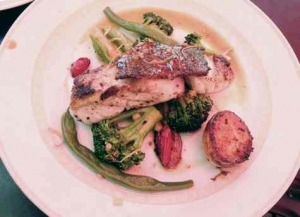 We met at the designated spot each of us "glowing" in the heat of the midday sun but neither acknowledging that the other looked more than glistening! Since we were a little early for lunch I took the opportunity to wander through the darkened by awnings in this Tel Aviv street market, with friend dragging at my heals to buy some plump kalamata olives and fresh smelling herbs. I picked up a couple of pink flushed mangoes along the way when I realized I had left my granny trolley at home so that would be the extent of my shopping for the day.
We headed towards HaBasta restaurant, which I once aptly called a diamond in the rough…We turned left from the bustle of the main market, from the direction of Allenby Street, wandered a few yards down an unobtrusive street lined with home-ware, carpet and button shops and reached our  destination. The exterior of this wine bar come restaurant  had not changed at all since my last visit, comprising of several simple tables and quirky chairs.The only addition were the huge canopies shading the seated overheated occupants from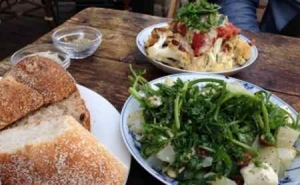 the fierce midday sunlight.  The cozy bar at the back interior remained the same although somewhat cooler than the outside.
HaBasta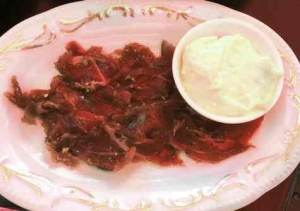 still retains it's easy casual atmosphere including the checkered tea cloth napkins and unmatched crockery. The staff are attentive and helpful and there remains a feeling of solitude even though the buzzing market is just a stone throw away.
I don't believe I can describe the food better than I did in my previous post on this restaurant so will reiterate some of my words. This unexpected place serves a surprisingly innovative menu created by chef Itay Hargil. I loved the delicious selection of the special lunch menu, more so for the use of unusual combinations and daily fresh ingredients.
We munched through our meal, beginning with a combination of mid East and European dishes. A nutty masabaha dressed with green beans, seafr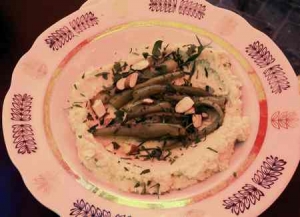 esh sardines, beef carpaccio with creamy horseradish dip and crusty bread plate including a generous dollop of golden butter. This was followed by wonderful seasonal fish, a juicy meaty white locus filet with crispy skin and sumptuous seafood, fleshy mussels in a mild cider marinade melody. Washed down by a couple of wheaty cold beers we were happy bunnies!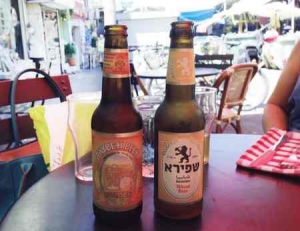 Not any inexpensive lunch even with the special lunch deal, but if you enjoy the food as much as Sweet girlfriend and I did , then I would recommend the occasional investment!
♥HaBasta
4 Hashomer Street.
Tel: +972-3-5169234
Opening hours: 12.00 noon to 01:00am.