I have a Sweet friend who is a documentary filmmaker, the Director & Producer of Holyland Productions, Israel. His latest venture is called Hummus the Movie.  I bet that title gets your a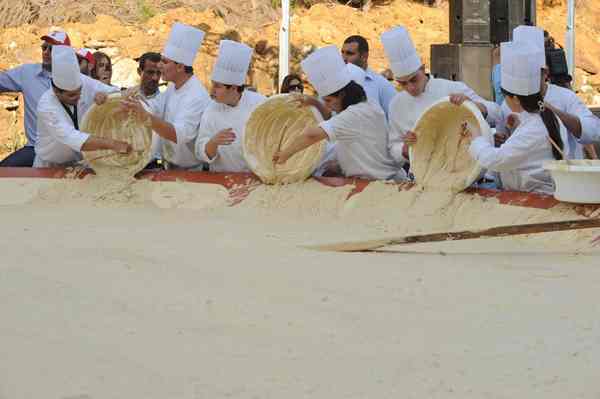 ttention – as will this "bigger than a serving" story I have to tell.
With the films promotion in mind and to gain optimum publicity worldwide, sweet friend Oren, decided  he would need to create something super media worthy. His target was to be in the Guinness Book of Records! Oren wanted set a new record for the largest bowl of hummus ever served by producing a plate containing fifteen tons of the delicious nutty stuff . By doing this, he would regain the title for Israel and knock out Lebanon from the lead position. Even the characters from the movie were to play an active role in this "humongous" event  and I am positive that no one would have left without a take out portion…
Alas, when Oren duly sent his invitation to the Guinness World Records office to adjudicate this plentiful plate , they declined claiming that Israel was too dangerous a country and therefore they could not send a judge to do the honors.
The original location for the event was to be in Abu Ghosh, an established Arab village with a Christian history, about ten kilometers west of  Jerusalem.  On the vague assumption that maybe the area was the issue for these officials, Oren  suggested various other locations in Israel . However he knew this was a long shot, as even in his initial contact with the Guinness World Records office,  he had  received a less than positive feedback . Their refusal due to security issues subsequently caused a wave of criticism in the Israeli press but, optimistic Oren is ever hopeful….
Hummus is a simple common food, shared by many a race and religion without prejudice. The new film is in much the same vein. It is said that size is not everything and certainly in this case it's true!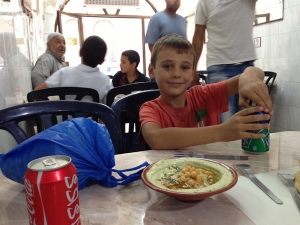 Guinness Record or not,  it is the intention and message of the movie which are key -and no amount of hummus can enhance that.
The last film that Oren produced in was Beneath the Helmet.  A moving and thought provoking documentary about the journey of five teenagers entering military service and one of my very first posts.  Be assured that I shall not miss this new "superfood" movie once it hits my sweet Tel Aviv !.
Should Hummus the Movie be released in a city near you,  I hope you remember this story, buy a ticket, enjoy the film and write to me about it!
Coming soon  ♥ Hummus the Movie
Photographs from the film Hummus courtesy of Oren Rosenfeld