My fav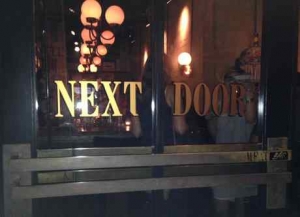 orite evening pastime after a stress filled day is to join with friends in a buzzing bar in Tel Aviv. This evening sweet man and I agreed to meet our mates at Next Door. Next Door Bar is in easy walking distance of Rabin Square adjacent to the wide leafy Chen Boulevard. It has a few intimate tables outside and some bar seating which are  positioned next to huge beer barrels stacked to form a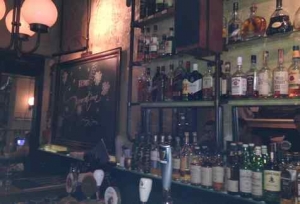 interesting display. Since the weather in Tel Aviv is still on the sticky side we selected to sit in the small indoor premises, with full air-conditioned. Seating ourselves at the high wooden long bar (with longer than my legs bar stools) facing the well stocked shelves we were happily in inhaling distance of the delicious snacks being prepared by the chef.
The narrow inside space with it's high ceilings and shelves with numerous bottles of booze, a wall hanging chalked black board, high corner tables and welcoming bar staff was reminiscent of a place that I used to call my "local'…
The proprietors 
of Next Door are also those of  the Meat Bar Restaurant which is literally next door! This should give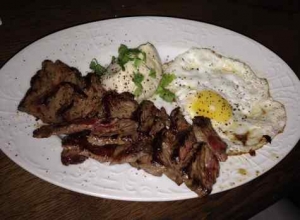 you a heavy hint of the bar food they serve. Not ideal for vegetarians, vegans or those with an aversion to red meat. If you want to enjoy all the carnivore pleasures, juicy sirloin steak slices on hummus with fried egg, overflowing corn-beef sandwiches with pickles, succulent fat sausages with hot mustard it's important that you share with like minded friends. In retrospect, a veggie lover could just binge out on the home made challa bread which is melt in the mouth heavenly…
The bar is an extremely amiable place with a happy atmosphere and lots of legal smoking – so if you can cope with the pleasant crowd (age appropriate) the smell of the cigarettes seem to waft away with the famous and  familiar but not too loud toe tapping music. With a couple of  decent La Chouffe
beers, inventive and appetizing "bar food" and the company of  good friends, the tequila chaser were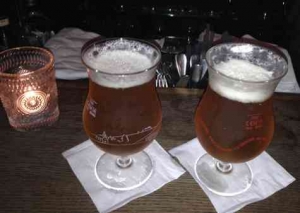 hardly required….
Cheers!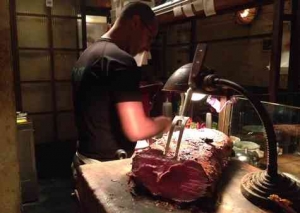 ♥ Next Door
Address: 52 Chen Boulevard
Tel: +972-3-695-6276 quote Next door Bar
Note: Try to get there before 8:00 pm if you want a seat at the bar.
Opening times: Sun-Thur 6:00 p.m – 1:00a.m
Fri 1:00 p.m – 1:00 a.m
Sat 6:00p.m. – 1:00 a.m