When I have a lack of
energy
which is fairly often (notably in the winter months), my skin feels like ancient parchment, my pallor anemic (imagine  Dracula's bride)  or my nails flake like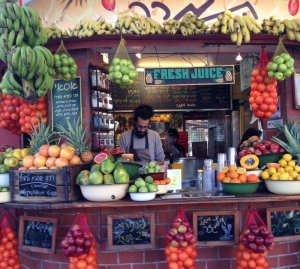 finger dandruff, it is imperative to increase my vitamin intake to restore my former beauty….
I am a little particular when it comes to fruit juice. I prefer the real thing, fruits (or vegetables) that are in season and not that supposedly fresh tinted liquid which is sold in bottles, boxes or cans claiming to be all natural, (so what about the preservatives or shelf life of pressed juices?)
As with any consumer including both genders,  I  enjoy being be sold the image, to be knowledgeably  informed that I will feel so much
healthier
, my cheeks will glow and the redness of my bloodshot eyes will reduce. Well, I must say that none of this actually springs to mind when I visit my favorite fresh juice bar.
Just glancing at this little Tel Aviv kiosk called
Tamara
on the corner of 
Dizengoff Street
/ Ben Gurion boulevard, regularly surrounded by people patiently waiting to order or, already contentedly sipping their luscious looking smoothies through the coloured straws, is enough to make me feel healthier without touching a drop!
The display is an amazing layered assortment of seasonal fruits and vegetables stacked appetizingly in bowls and crates, all set in a glorious natural colour palettes. Ripening bananas bunched securely together hang from the top of the facade, just posing attractively until they are ready to be mashed and mixed with different fruits into another tasty treat.
Green vegetables of all possible shades overhang at the sides of the booth and with their diversely shaped leaves form a blanket of a wholesomeness. To the side, buckets of beautifully formed shin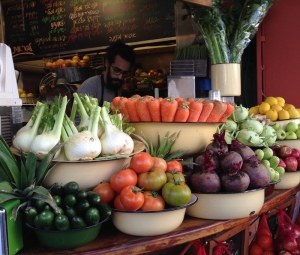 y red apples await to be pulped, which would even entice a wiser Snow White.
The smell is contagious. The closer you stand the nearer you get to the freshness that emerges from the fragrant mint leaves, the sticky tropical sweetness from the ripe mangoes and the tangy, slightly acidic but somehow clean smell of grapefruits.
Drink options are many, consisting of healthy juice recipes, combinations of fruits based on orange juice, water, milk or detox recipes such as green juice, curly kale or a custom mix of both. The combos are limitless but the staff are always happy to advise.
Size is also a consideration. Personally I always go for large (no pun intended really), the bigger the glass the more nutrition and very easy to quickly digest. I find no hardship in slurping from a straw,  especially when something delicious is in the container!
Perhaps it would be remiss of me not to mention that I also have a penchant for their delightful muesli, yogurt and fruit mix, topped with a sticky squirt of honey or silan, (date honey).
This is not a skinny option, but blissful and filling,  although not ideal to walk around the city with…..
My visiting friends and family are particularly fond of this outside juice bar and will take every opportunity to stop by, pick up a smoothie and wander on down to the beach.
Hope you enjoy too.
♥ Tamara
171 Dizengoff St/ corner Ben Gurion Boulevard
Tel: +9723-5234445