We have indulge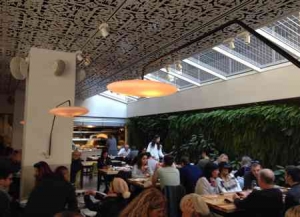 d in many a delightful breakfast in Tel Aviv but none more satisfying than the one we feasted on recently. A Sweet friend who I literally bumped into on the street (knocking us both sideways) confessed to being fully fed from head to foot from a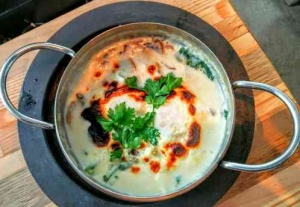 breakfast taken at Mashya Restaurant in the Mendele Hotel. Not needing further encouragement, I kissed him swiftly goodbye whipped out my mobile and made a note to reserve for two hungries for the weekend.
Totally  forgotten in the build up to the Chanukah festivities, Saturday arrived and I was off  to burn some calories so mentioned to Sweet man (still in bed ) that he might like to book a late breakfast while I was sweating buckets. He grunted and turned over….
The long and short of it was that on my return nothing had stimulated his brain matter. Irritation however had awoken mine! I mentioned Mashya restaurant, he called and managed to get bar seating at a time nearer lu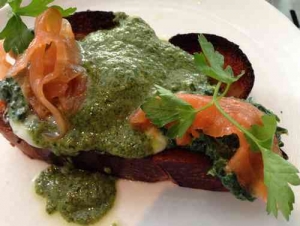 nch. Whatever..
Off we trotted at a very leisurely pace toward the sea. Turning off Frishman Street to Mendeli Street we arrived at the boutique hotel. The glass front entrance exposed the restaurant bar head on and, a line of comfy colorful sofas & coffee tables presumably used by the hotel guests. W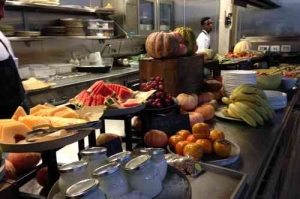 hat a lovely open space ! A modern decor with a white cut out tiled ceiling, light wood furniture and a carpet of real greenery trailing the complete side wall. It was like having the outside inside. Of course the kitchen and bar were the regulation stainless steel structures but still the atmosphere was inviting.
People were milling around with plates full of delicious looking food or stuffing themselves from multiple platters already selected and placed carefully on their table for friends and family to taste. It was only then it dawned on us that it was a self service meal.. but actually only in part.
The idea of the breakfast is som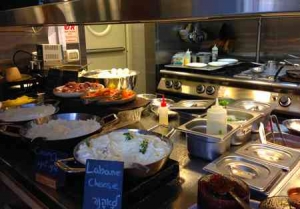 ewhat like a posh hotel meal in Tel Aviv. You have a choice of a freshly squeezed fruit juice (served from a small quarter pint milk bottle) and a (decent) sized coffee . You then select your egg dish from the menu. These are not bog standard omelets or sunny sides up but, an inventive array of dishes such as white s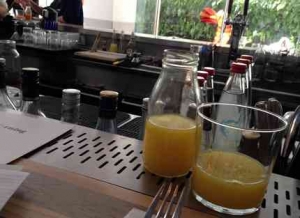 hakusha made with bechamel sauce. These and the drinks are served to you at the table -or in our case the bar. Then there is a huge selection of salads, antipasti, cheeses, fish (gravlax & herring) variations of challah breads, exotic fruits , yoghurt (cow & goat)  jams, chocolate spreads, honey  and sweet baked goods. All of which can be taken without limitation… and as many times as it takes to overstuff an already stretched stomach! The Mashya Restaurant by Yossi Shitrit (chef of Kitchen Market & Onza) added this breakfast service in March 2015 which has obviously become a popular venue with locals.
We were certainly excited at the concept. The buffet food was of a very high standard, displayed in an aesthetic and appetizing manner. The served dishes were yummy and the service was very pleasant. The icing on the cake so to speak, was the price. Although higher than most 'regular' Israeli  breakfasts this was excellent value for money as we definitely felt that we had eaten breakfast, brunch and lunch … Off to exercise again!
PS. At the time of this post there was no lunch service. It has now opened, do see my post  Tel Aviv Lunch- Mashya for the update!
♥Mashya Restaurant
Mendele Hotel
5, Mendele Street
Tel: +972-3-750 0999
Reservations: A must
Breakfast Price: 85 & 95 NIS
Breakfast : Mon to Thurs 9am-11am  Friday & Sat 10.00am- 3.00pm
Dinner : Mon to Sun– 7.00pm-11pm