When I travel abroad I am very partial to boutique hotels. Of course, I like the larger more commercialized hotels but there is definitely something special and sweetly intimat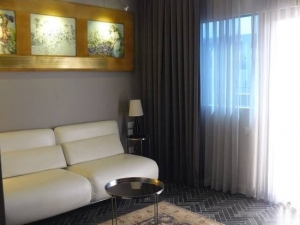 e about a smaller hotel. I like the fact that the service is more personal plus generally attention to detail is much more precise. Unlike larger hotels with hundreds of rooms, boutique hotels are often situated in the center of the city cl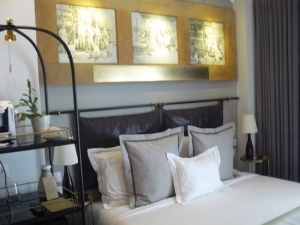 oser to the real local life and surrounded by all that it has to offer.
One such hotel is the Rothschild Hotel, located on Rothschild Boulevard, Tel Aviv. The manager Sarit, is pleasant and charming and will go out of her way to be helpful, even for an unexpected visitor such as me!  The delightful hotel has 22 rooms each tastefully furnished to the highest standards throughout, with the use of materials such as solid wood and leather, Egyptian cotton sheeting, thick pile cotton toweling and orthopedic mattresses .
"Boutique" as in "bijou" meaning a small and elegant residence or a jewel, really does describe this  sweet Tel Aviv gem. The room sizes range from 22 square meters to 45 square meters with terrace, which are not exactly small ( have you been to Paris or Rome lately?) but are beautifully proportioned .
Suites and rooms are esthetically pleasing as you would expect, the stylish decor is a combination of contemporary and classic, soft neutral color palettes and touches su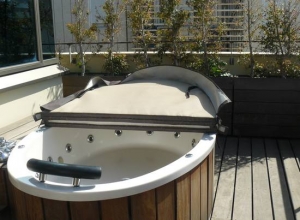 ch as monogrammed cushions (the big R). Organic toiletries which are provided in each smart bathroom, are produced by a moshav near Jerusalem. ( by buying these products the Rothschild Hotel conscientiously supports th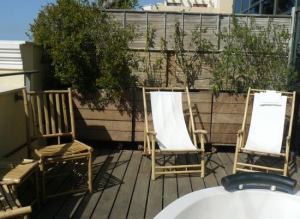 e moshav community.)
Plus there are thoughtful designers touches throughout. Gracing the wall of each room is a door salvaged from the original building which displays artwork by Israeli artists, depicting the journeys of Baron Rothschild- a respectful and private acknowledgment to a dynasty. In the stairwell, a quirky and artful light fitting with trumpet shaped heads focused on each floor.
On the ground floor the hotel now boasts an organic restaurant, (with the exception of beef), a smart well equipped bar, a reception and welcoming area, and of course the outside terrace where you can watch the world pass by- see my post  Eat, Drink, Brunch in Tel Aviv.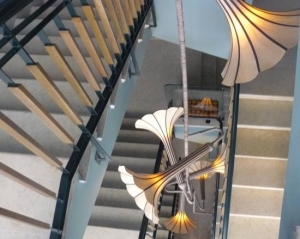 Personally I really feel comfortable with the size and decor of the hotel and the lovely fragrant smell when you walk through the entrance door……
Rothschild Boulevard