Tel Avi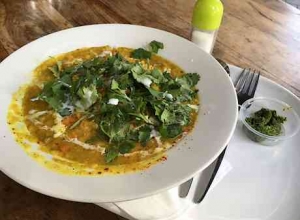 v is one of the most Vegan-friendly cities I know. Since I am a self-confessed carnivore,  my experience in Vegan restaurant  cuisine is fairly limited. Today however convinced by my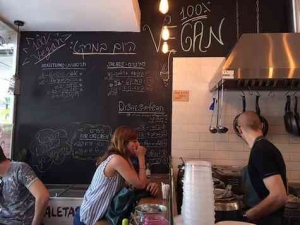 Sweet girl to lunch on healthy munch my arm (or leg) was pulled. We settled for a local eatery called Market which boasts 100% pure Vegan . Personally, I am rather fond of veggies but generally served with red meat or fish!
Sweet girl kindly explained the large blackboard menu to me, highlighting lentil dishes and those with rice or noodles. The hot dishes comprised of a variety of sauces, cooked Indian, Persian, Asian style to name a few. I assumed that each dish included spices native to the title, mixed with root vegetables,  greens,  and mushrooms according to the recipes of the day.
The Persian plate sounded rather exotic so we chose that together with the Market salad. The hot dish was based on Persian rice with a rich sauce of finely diced vegetables. Topped with chopped coriander it looked colorful on the white platter. The taste was pleasant, l
ike homemade comfort food. I mixed it with a forkful of chimichurri, a piquant relish given freely at the counter. The hint of heat made all the difference to me, but then my taste buds are not used to Vegan.
The Market salad, on the other hand, was not only generous in size but in ingredients too. Leaves, sprouts, cherry tomatoes, sweet roasted potatoes an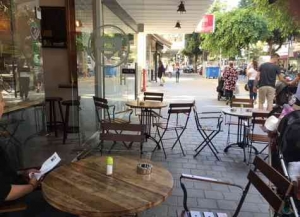 d sauteed mushrooms coated with a plentiful portion of tahini was moreish and delicious.
Market is a self-service Vegan restaurant which is popular with the Tel Aviv locals in the area. There is seating outside which is perfect to watch the world pass by or, bench seating inside if you prefer.
Meals are ordered and paid for at the counter which fronts the kitchen and, your name is called for collection.
We enjoyed the meal plus the positive girly time. Indulging in the healthy made me feel happy and contented for a few hours…
♥Market
Address: 140, Dizengoff Street
Tel :+972-3-6979015
Opening Hours: Sun-Thu  12 noon to 12:00 am
Fri 12 noon to 5 :00pm
Menu: Hot Dishes, Salads, Soups & Sandwiches – 100% Vegan