If you are visiting Tel Aviv for Passover or, planning to come anytime soon, I have compiled a short list of  Kosher restaurants which comply with dietary laws of the land.
You will appreciate by the number of foodie posts that I have published, my calorie count is on the up and up and I still have a way to go covering the all the eateries in Tel Aviv!
Do forgive me for not elaborating on the restaurants that I haven't sampled yet, or been to in a while…  I may not have eaten my way through all of these restaurants but do hunger  for your "feed" back if you have!
Famous for its marvelous meat, mountainous plates of meze, this restaurant sits in enchanted Jaffa. See more on my post here
3 Raziel Street, Jaffa
Tel: +972-3-518-1802
A renown Turkish restaurant with a brick taboon serving delicious Eastern Oriental cuisine. Read my post here
8, HaArbaa Street
+9723-5617778
Elegant restaurant specializing in fish & dairy inventive Mediterranean cuisine, known as  Kosher gourmet!
10, HaTa'assiya Street
+972-3-5629900
Specializing in Sushi & simple Japanes

e cuisine, this little eatery on buzzing Bograshov proudly displays its Kosher certificate for all to read. See my post here
23, Bograshov Street
+972 -53-809-6610 /+972-050-9966101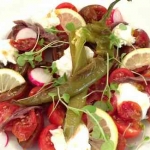 Classic modern Italian cuisine serving fresh fish, handmade Pasta, bruschetta, salads and Pizza (dairy)
2, Weitzman Street
+972-53 8094944
Authenic Bistro style dining in the city , complete with Fois Gras escalope within it's French menu. Lamehadrin Glatt Kosher
24 Lillenblum Street
Tel: +972-3-5103913
Housed in a lovely old building this restaurant serves Eastern European favorites such a Kreplach soup Israeli style! Tel Aviv Rabbinut Kosher
Ha'tachana- Building 10 (Old Railway Station) Neve Tzedek
+972-039428604
Meat & poultry skewers, steaks, kebabs, shakshuka, couscous, stuffed veg. Authentic Eastern delights served in the heart of Jaffa!
3, Bet Eshel
+972-53-9444193
A Meat restaurant with a modern Mediterranean cuisine, their motto "people, food, soul.
Asia House Complex
2, Dafna Street.
+972-36091331
Homemade pizzas, pasta, salads, and lovely antipasti
122, Ben Yehuda Street
+972-35239846
Located on convenient Dizengoff St. in Tel Aviv. This small  dairy restaurant serves classic, fish or veggie lasagnas, an array of pasta & basic salads
177, Dizengoff Street
+972-539442921