If you have a mania for meat with a Middle East twist then Itzik Hagdol in Jaffa is your venue. In Tel Aviv there are many kosher meaty options but the one with fame attached to it's name is this well established restaurant in the heart of Jaffa. My latest visit was with sweet man when he requested a steak for dinner but I had unintentionally blocked the butcher from my shopping list. So deciding that he could not be satisfied by less than 250 grams of protein we set off in the direction of Jaffa.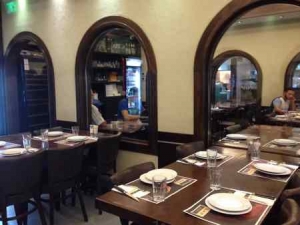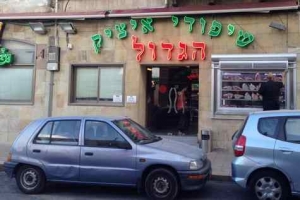 Do not be discouraged by the appearance of the street where this place is situated, (we were thankful for the plentiful outside parking) it's tatty but authentic looking. The facade of the restaurant is also not the most tempting, with a side window displaying various cuts of raw meat and a green neon sign proudly presenting the name. Do ignore this and instead enter the emporium of  "Mizrachi" (Middle Eastern) kosher cuisine.
On the right side of the eatery is a long counter which obscures the kitchen and the taboon oven. It is from here the dishes are served including the mega trays of salad mezes which are a must as an appetizer and accompaniment to the grilled dishes. On the left, tables and seating are divided into three areas by windowed arched partition walls, so you can still see the other diners diving into their food or gnawing on a lamb chop. We were seated in a area initially without other people which was rather romantic,
until the space quickly filled up during the time we were there.
After some detailed and a rather too descriptive discussion about cuts of meat with the well informed waiter, ordering a hu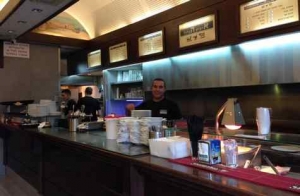 ge boned Prime rib steak seemed to pacify my man. Even though I insisted it was well large enough to share I persuaded my eating partner to add some deep fried chips to cholesterol feast,  and so a small portion was ordered 'just' for my consumption….( yeh really)
Needless to say we could not resist the meze tray filled with countless small plates of delightful salad combinations even hough these were at an extra charge, unlike other Israeli eateries. Dishes comprised of a cold selection, with examples such as  finely chopped Israeli vegetables, Moroccan spicy carrots, tomato Salsa, red cabbage in mayo and pickled cucumbers. In addition, warm dishes such as flavorful falafel (deep fried chickpea balls), thinly sliced fried eggplant and hot fava beans. As an important calorific note, I should cordially warn you that should manage to consume any of the salad selection, the empty dish is replenished until you refuse a refill…. The meze are served with a giant frisbee sized flat bread baked in the taboon just in case you would like to dip, wrap or take home in a doggy bag!
Our stea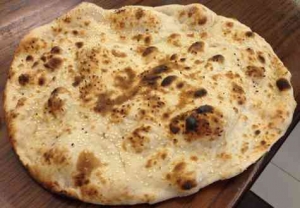 k was delicious, juicy and demolished within an unbelievably short space of time. My chips however looked slightly soggy and in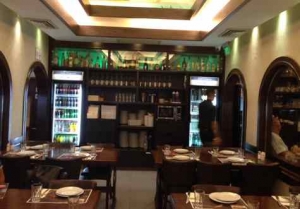 deed could have been crisper. Washed down with nearly a full jug of  homemade lemonade we could barely hold our stomachs in whilst walking across to road the car
Serving skewers, shishlik, kebabs and a variety of  grilled  meat, poultry or fish, Itzik Hagadol is not only a favorite of many from Tel Aviv or  suburbs and inquisitive tourists but, also for Israelis living abroad, who see this restaurant as tasty reminder of home.
Go with a big appetite and a large purse!
3 Raziel Street, Jaffa
Tel: 03-518-1802
Open Hours: Sun-Thu 11:30-01:00
Fri Closed
Sat 11:30-01:00