Jaf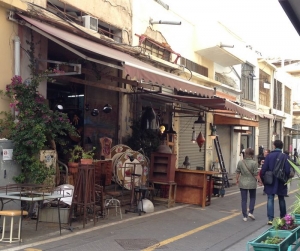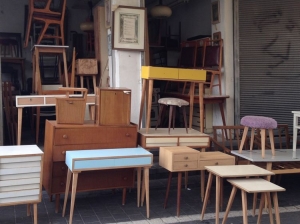 fa is a fast developing area and the Jaffa Flea Market, in Hebrew Shouk Hapishpishim, has jumped on the bandwagon. It's true to say this compelling Jaffa market is still one of the highlightlights of the area  in the hunt for rejuvenated junk but I personally like the unusual outlets. Bijou boutiques selling hats, local designer clothing, shoes, organic perfumes & soaps imaginative ceramics and  Judaica.
I often hitch a lift with a Sweet friend or two to wander around the large vintage furniture emporiums or walk into the workshops of carpentry masters polishing new life into wood furniture that would otherwise end up in a burner heater. I can never wait to visit the open kiosk of the imaginative man who recycles old unusable doors into tables or cabinets. I love to enter the premises of the clever creative gentleman who can turn any glass items into a masterpiece of unique decorative lighting- pity I haven't the 'ten green bottles'…
Leaving no side road 'un-turned' I weave my way through the streets, checking out the renovated industrial kitchen equipment that looks better, shinier and more robust than the more expensive branded goods in my kitchen. I see chairs that my parents threw away a decade ago looking sp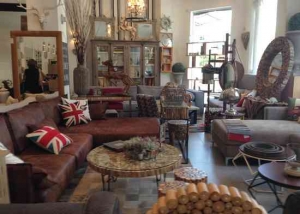 lendidly 'current' in happy upholstery and a healthy price ticket. Colored lamps that I would never give house room too let alone a place of honor and items such as leather luggage that now are the props of visual display artists.
I meander among the market stalls with vendors seemingly as worn out as some of the items they sell. Searching for treasure, I never quite know if a picture is a Gauguin or a Google, or a jewel is a diamond or diamante but feel comfortable in purchasing a pair of decorated china knobs for a piece of furniture I've yet to find…
Of course I love the eclectic mix of eateries that have opened their doors to accommodate the market audience. Th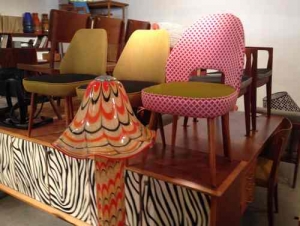 ere are fish restaurants, Mid Eastern cuisine, feisty fusion,  health food, cafes and many flavored ice parlors.
I enjoy the haggling for a bargain or two, a quintessential trait that I have happily acquired from my life in the east. As a 'fickle' female I adore retail therapy whether it be clothes or home-wear, fur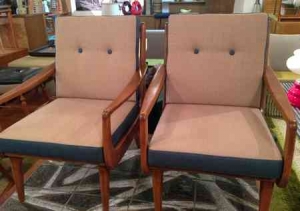 nishing or flowers and, I always  love food-  in any form. A half day out in Jaffa Flea Market is just what's needed to stimulate the sensory system, fun and frivolity!
By the way, should you like to take a tour with a 'designers'  view to gain some inspiration, I recommend a lovely lady named Paula who will guide you through the Jaffa Flea Market with a fun focus on furniture & furnishings.  Press below button for details
♥ Jaffa Flea Market ( Shouk Hapishpishim )