Aside from all the fancy cuisine, there is humus. Best humus in Tel Aviv/Jaffa !.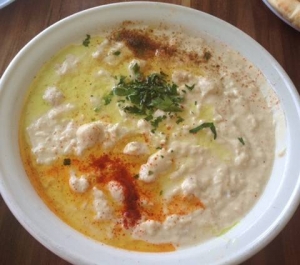 If you have ever tasted the stuff you will appreciate how addictive it is.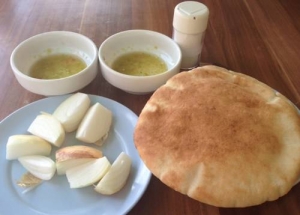 Not only is it moreish
and nourishing, satisfying and inexpensive, it is an Israeli institution!
The smooth creamy texture sits like nutty paste on the tongue and dissolves in the mouth slowly with an explosion of flavor.
In Tel Aviv humus is served in all middle eastern restaurants, some better than others but never the less always present.
After a traumatic morning (another story) I was invited to lunch by my sweet niece. Given the choice of what I would like to eat I decided upon humus. Sweet niece nearly bumped the car, in her laughing fit, but manage to nod in agreement. We eventually  parked in Jaffa adjacent to one of the most renown establishments for humus in Jaffa, Abu Hasan.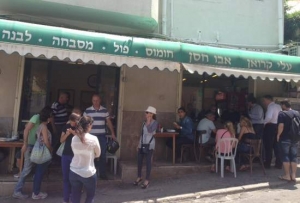 This Abu Ha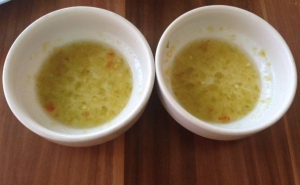 san is situated on the hilly Dolfin Street (there are two more branches in Jaffa) which in itself is a beautiful blast from the past. People come from all over town to get a bowlful of the local delicacy. Its a type comfort food that replaces chicken soup on a hot day. This is THE go to place for the original humus.Posh it is not, basic it is. Full of people, definitely , queuing for takeaway, always. Worth the wait absolutely!
When I say basic I mean it, simple tables a chairs and few pieces of artwork grace the walls. However what's missing in design is overcompensated by atmosphere, the establishment rocks ! Buzzing with chatter (in between mouthfuls) waiters and kitchen shouting orders and all t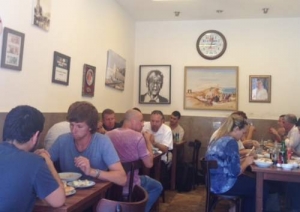 his with perpetual smiles!
The limited menu consists of creamy humus, humus with humus beans, humus with fava beans, Masabacha (long cooked humus beans mixed with tehina and served warm). All are served with a plate of raw onion, a crushed hot marinade of peppers and lemons and fresh pita bread. You may believe this insufficient for lunch, but after the first forkful and a few swipes of the pita,there is certainly no need for any other distraction on the table…
If you have never tasted humus of even don't like it very much, still give this place the opportunity to convert you. Go early,
brunch
or lunch as it closes as soon as the humus has run out..
1, Dolphin Street, Jaffa
Tel: +9723682-0387 /8355
Open Sun-Fri 7:45-14:45 (or until the humus has run out)