I believe made a commitment (swayed by a mouthful of food) to follow up on my last post about my walk down Rothschild Boulevard. Needles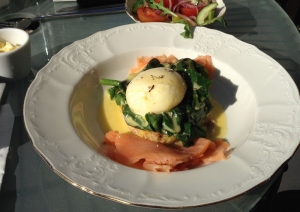 s to say, no walk reaches the peak of pleasure in Tel Aviv, w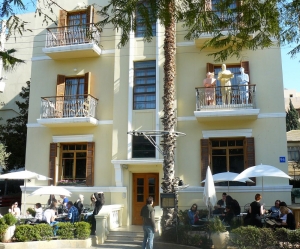 ithout stopping off for some nourishment along the way. After all, there is something so civilized in having a
munch
at brunch!
To be very honest, it was as I was playing amateur  photographer (a level I find hard to maintain) that I discovered through the short lens, the Rothschild Hotel (another post) and the delightful bistro restaurant serving an indulgent brunch menu.
The building is an handsome pale saffron coloured structure, with balconies of wrought iron and wooden slatted window shutters. It has been carefully restored to its former glory but with a twist of fun.
On one of the balconies stand three ceramic figures in primary colours seeming reading from sheet music, 
maybe giving a tune or two to the hungry passersby. A pebbled doubled fronted outside terrace serves as the outer bistro, with cafe style tables, high backed padded stools and white sun canopies.
Peaking through my camera  I had just managed to focus on what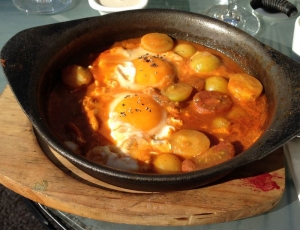 appeared to
posh cocktails
, bubbly mixtures in tall champagne flutes. This is where I speedily headed calling to to my better half to watch the traffic as he crossed the street…
The menu did not disappoint. Offering international favourites such as Eggs Benedict or the  Israeli signature dish of Shakshuka, in its traditional spicy form plus a  "green" version with spinach and leeks. Fresh crusty seeded bread was served with sunflower yellow butter and a tubular glass vessel of golden olive oil complete with a brush!.
Light cocktails complimented the dishes, I enoyed a refreshing Mimosa (
freshly squeezed orange juice
and champagne). These were very reasonably priced at 26NIS.
Nicely fed and watered, we set off again on our stroll down the boulevard – until teatime…..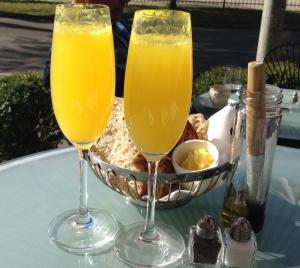 Brunch served: Noon to 4:00 pm