I am frequently asked what there is to do on Saturday in Tel Aviv. The majority of you of course will want to chill out (or heat up) on the alluring beach, but please remember crispy skin is only attractive on oven roasted duck.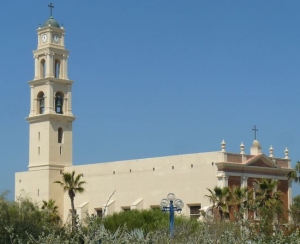 On a Saturday, most of the quaint artisan shops and museums are closed ( you get to  hold on to your money for one day longer), so there are few distractions as you meander through the cobbled narrow streets, with buildings connected above your head by arched domes. There is a smell of ancient past, that kind of musky scent that attacks the nostrils and clings to your clothes. Outside the narrow walkways where the space is vast and these old grand structures seem ginormous, the odor is mingled with the pretty smells of flora, fresh new leaves and petals swaying against the long established old.
On each of the  street walls you will see a turquoise ceramic plaque depicting a star sign (Taurus, Sagittarius etc) which makes it easier to follow the trail with the walled street maps. The street numbers are of the same material which is a tasteful and thoughtful example of how Jaffa has been respected and cherished.
♥ Old Jaffa