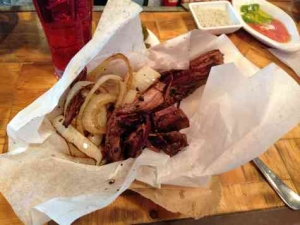 Having happily given up dieting we are back on the food trail. This time 'gourmet' fast food in Tel Aviv. With a passion for pita our first stop was Miznon. Located on the grungier end of King George towards Allenby Street we finally found this eatery with a facade in keeping with the
surroundings.  We entered with a little trepidation, afterall what's in a pita?
The place itself is super casual and the staff really follow suit. The tables and chairs look like they have seen better days, but since no one sits for any length of time this doesn't seem to present a problem. The decor is interesting, kind of vintage and fun with handwritten menus that add to the 'hip" image. Displays of raw cauliflowers that will end up in blistfully baked sit along side a self service buffet bar of tahini, creme fraiche, pickled veggies and of course pita bread! The music is foot tapping and the place has a good vibe shown by a hungry stream of lunctime locals placing their orders across the bar.
And so to the food. Well, almost everything comes in a pita. We were in a meaty mood and needed a protein plus option, so happy other half chose a filling of minute steak with tahini rataouille. Other choices included, chicken breasts, chicken livers, various red meats and vegetarian options. I sweetly decided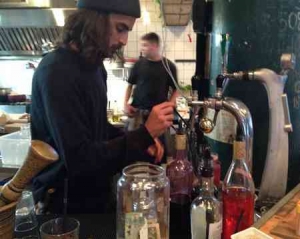 to not to partake in the puffed up pita but fancied  the "Bag of Meat " This turned out to be a melt in the mouth meat with clear onions served in a brown paper bag. All finger licking good!  Tempted by the idea of smashed  ( baked ) potato on paper  served with oodles of creme fraiche we added this to share between us – and quickly grabbed a couple of plastic forks…. Plus to complete this experience we added two long glasses of flavored Gazoz with bubbles that whisked us back to before fresh fruit jiuce…
This is the culinary vision of  a well known Israeli chef , Eyal Shani. Since this is the one place in the world that almost everything can be eaten in a pita, his upgraded twist on this local street food  has become a talking point.
This is definitely Israeli finger food. Not the sort of canopies you get a posh parties but full hand held grub suitable for huge bites and big appetites! Pretty easy on the wallet and satisying for an awesome afternoon adventure.
If you dont like getting your hands dirty this is not for you 🙂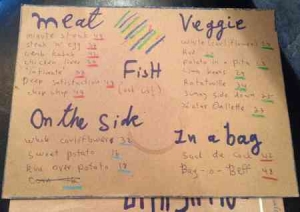 ♥Miznon
Address:            30, King George Street
Tel:                     +972-3- 631 7688
Opening hours: Mon – Thurs, Sat & Sun : 12:00noon to 1:00am
: Friday 12:00noon to 5:00pm
Other branch :  23, Ibn Gavirol Street
Tel:                    +972 -3- 716- 8977
[/fusion_builder_column_inner]