Following my post on Breaking Bread it seems fitting that I write about something sweet to go with the bread, namely jam, Tel Aviv jam to be precise.
Jam is a confection that we all know and love from childhood through to adulthood. It is the sweet comfort food that reminds us of nursery mornings, school days and home warmth. Eaten for
breakfast
o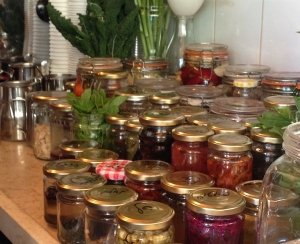 n buttery toast, at afternoon tea on crumbly scones, dolloped in creamy rice or tapioca puddings, the squidgy inside of compacted donuts and now the po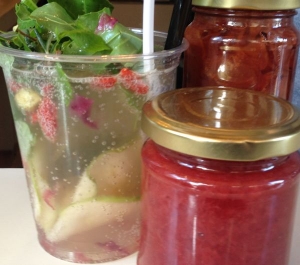 sh cuisine accompaniment of meat and pates.
Levinski 41, is a tiny cafe ( like an enclosed kiosk) which opened about two years ago. It is located in the heart of the buzzing
Levinsky Spice market
in the southern quarter of Tel Aviv.
I tripped across it (literally) whilst shopping for some special spices for that mouth itching curry I have been promising to lovingly prepare for Hubby and mates (which they might come to regret…)
Benny the owner of this establishment produces a decent cup of coffee, whips up with relish super sodas (gazoz) using all manner of natural ingredients, such as ginger, mint, black pepper , eucalyptus, pomegranate, chi seeds  and more, prepares rich chocolate truffles, sweet marzipan balls and some of the most delicious homemade jam I have ever tasted.
If you need a caffeine fix or feeling adventurous enough to drink a health boosting soda, then this is a  great quick stop before doing the spice tour of Levinsky.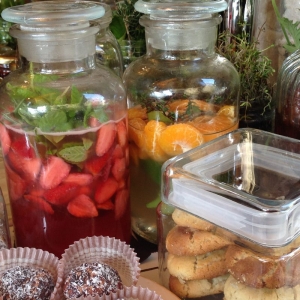 For me the attraction of the yummy jam is greater. I bought jars to devour at home en famile with 
fresh crusty bread
and to give to a couple of friends as sweetening presents.
Each colourful screw top jar is (jam) packed with fruit bursting with flavour, which takes me back in time to when I was a  young girl (the positive memories) and whilst I appreciate the traditional and probably most commercial choices like strawberry, I love it that Benny includes fruits such a old fashioned quince in his repertoire.
Definitely a Sweet experience!
41 Levinski Street