How I love new, fresh creative jewelry talent springing from Tel Aviv ! Liron, known to her friends as Keysam (toothpick) is one such splendid talent. Since she was a child her life has been about traveling and delving into the delights of design, which she discovered on these extraordinary explorations.
At a young ag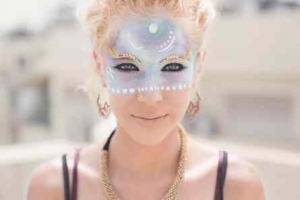 e, her love for all things beautiful led her to her mothers and grandmothers jewelry boxes. She would muse over the contents, investigate the designs and construction, wonder at the materials and handle these jewelry items in such awe that it must have been predetermined that this field was to be her destiny.
For the last five years, Liron has  traveled to the Americas, India. South East Asia and Europe, living a gypsy life and stimulating her creative juices. She was influenced by the modern cities, intimate tribal villages and exotic Islands. She started experimenting with items local natives would use to create necklaces or earrings  and understood that this was indeed her true path.
Without any formal training, Liron has an inborn passion for what she does and for the over two years has realized her dream by setting up her own label BohoReina. Her inspiration comes from the extraordinary natural beauty she has experienced,  the
varying colorful cultures that she has been introduced to, the textures of the fabrics she has touched ,the rhythm of tribal music she has heard and the raw but exotic jewelry she has seen.
Liron uses ma
terials that she has collected from her journeys plus items native to Israel. She uses only 100% natural stones. She believes that stones and crystals have the power to influence our lives in whichever way we chose to believe. She beautifully combines waxed threads, brass, 24 karat gold fill, natural feathers and shell.
Liron has a deep inner spiritual sense, an ethnic Boho vibe, and a creative strength which is obvious in her designs. All this and her love of patiently handcrafting each item makes her jewelry as unique as she is!
If you would like to see more  Tel Aviv Handmade Jewelry-BohoStyle, do leave your contact details in the comment box below and I'll pass it on to Liron