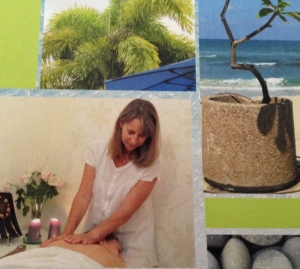 Do you ever have that lethargic feeling, your legs can no longer carry the weight of your trunk and your arms too weak to lift the wine glass to your lips, well I definitely do. In fact, I occasionally suffer from aches so unrelated to my daily life that I believe that they may have been transferred to me from a passerby while I innocently sat drinking my frothy (but skinny) cappuccino ..
In reality, we all get stressed, have a crick or two in the neck, niggling lower back pains, untimely headaches and a shrinking feeling in the spine, I guess it's called being alive.
However, sometimes it just gets too much to bear and that is why I am so grateful for those special few with healing hands, who can magically reduce these life "symptoms"  in an hour or less. By gently prodding, pummeling, massaging and stimulating pressure points, my favourite masseuse Sharon will encourage my body to go into relax mode and move my senses back to that serene (almost forgotten) place.
So if you are living, holidaying or just passing through Tel Aviv and need a little relief from your aches and pains or just an hour of pampering, Sharon is your gal. With mother tongue English, a mobile massage bed and kit (or you can visit one of her clinics) and a professional but super sympathetic attitude, you will enjoy and benefit from every moment!
♥ Sharon
Tel: +972-52-243-7454