It is always great to come across fresh talent in the fashion field (especially in Tel Aviv) as it close to my own heart. A few days ago, I got an invite with my good friend to check out a premier collection of menswear from a new designer. S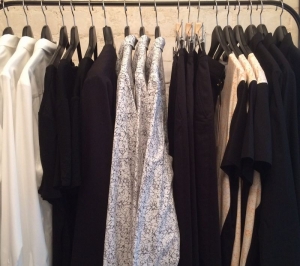 o, meeting up (in the bucketing rain) at the event, a leafy quiet address in town, we entered an apartment block.Greeted by
Ariel
Bassan
(and a proud, supportive family) I learned that he is a returnee to the city, who has decided to channel his designer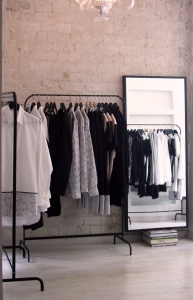 energy into creating beautiful contemporary clothes for men.
He originally studied interior design, which is reflected in his tasteful home/ studio base. He lives and works in a minimally furnished space  with pale floors, exposed and white washed brick walls and windows in three directions which gives the feeling of space. It is however, the inclusion of reclaimed wood interior doors and hand knitted cushions (knits these himself!) which adds a twist that bears the sign of design.
Ariel got swept up in the "
passion for fashion
", studied in New York and joined a fashion house for a couple of years. Now back in Tel Aviv he has decided to go it alone.
His launch range consists of some smart crisp contemporary button up shirts with uneven hem treatments (longer at the back) or with the use of wide insert print hems. Over-siz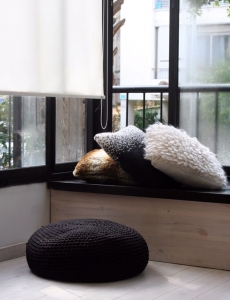 ed round neck T-shirts with a soft fluid look and comfortable feel plus slim no fuss modernist trousers. I did see one simple and super zip up box jacket.
All the fabrics used in this collection are natural fiber based, cotton or cotton Lycra ( which I love in this age of synthetics) and, to my surprise and delight the garments are produced in Tel Aviv. A practice I hope he will continue when large orders roll in.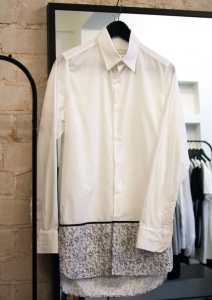 Prints play a key role in his overall look and complement the plain coloured garments in display, as well as being used in combination within them (hems) . Ariel is keen that all he produces is unique and this includes the prints which he himself designs. In this range, simplistic
stylistic
patterns on white backgrounds which are fresh and commercial.
He also charmingly designed all the graphics for his labels and cards.
The colour palette used is contemporary, black and white classics with a splash of unexpected colour.
My friend and I both loved his clothes, which brings a breathe of youth and modernness to menswear but spans all age groups.
I wish him the best of luck in his new venture!
♥ Ariel Bassan