I (quietly) celebrated a birthday recently and since the family and I were sadly so nonplussed about it we almost let it slip completely by. However, with all things being equal (a quote by William of Ockham about simplicity…really ) or in this case slightly more in favor of affronted Mother, we jointly decided that a luscious lunch would suffice. I did not want to s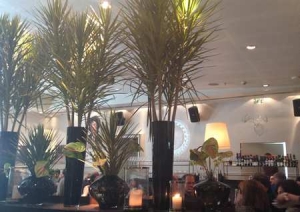 poil the 'happy' Birthday momentum, so I hastily agreed to return to a familiar sweet favorite restaurant called Toto in Tel Aviv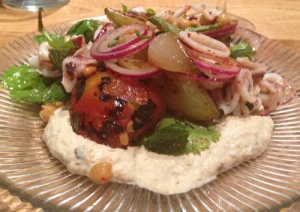 Bundling into a "call to door taxi", (instead of moving the car in the case of nowhere to park), we were driven by an unusually chatty driver to the restaurants location in the heart of the Tel Aviv Museum complex. The outside of the establishment does not mirror the decor within, but do not be deterred as the the sweetness is just hidden for a few steps through a walkway of glass framed panels. Stepping into the reception area swinging a glance to the left and you are granted entry to the world of casual contemporary dining.
The atmosphere was lively, heighten by the fact that there were many families dining this late lunch hour. The restaurant design is a mix of trendy and classic (like Rod Stewart with spiky hair but no tartan).
Pale elegant wooden tables, comfy padded low backed armchairs, a narrow unit displaying tall willowy leafy plants, lowered ceilings with spot lighting, a rack laden with wine bottles and a long bar back by a three sectioned mirror.and on the long the wall, the latest in unique entertainment ' video art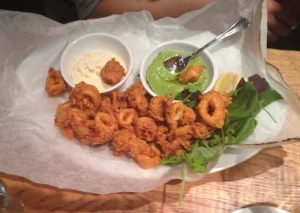 .
The delicious food is a con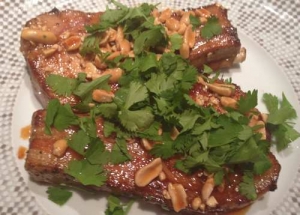 sistent as always. To start a classic of beef tartar, gnocchi with sweetbreads and chesnuts, and a salad of cold calamari with humus, humus beans , grilled and raw onion with a touch of chilli. all the starters were served on pretty glass plates, and as is my normal habit, I devoured every tasty morsel in sight, as did the rest of the family, until the plates were so empty we wondered if we had be served at all. To wash this down we slowly sipped our way through a couple of glasses of decent but rather expensive chardonnay (and as we found out later a rather overprice bottle of water too !)The main courses were a splendid mix of cuisines, parpardelle bolognese, a rich beefy sauce,succulent Asiatic pork chops , crispy coated and fried calamari with alioli sauce, sweetbreads served with creamy pureed potatoes.
As it was my birthday bash we did order sweet sweet desserts, three in fact which even with my huge appetite was over stretching it.. a chocolate delight, a caramel Mille-fe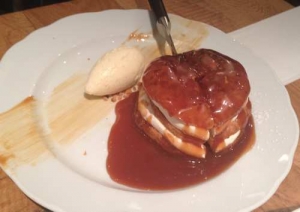 uille type cake on and a less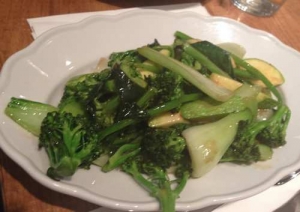 interesting cheesecake with strawberry sauce. Need I confirm that we did not manage to walk home but waved a cab down after tumbling three steps outside of the joint!
The manager on shift at the time was helpful and obliging (Issi, I believe) , but the staff on the reception could take a leaf out of his book.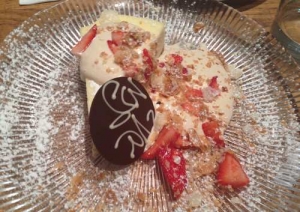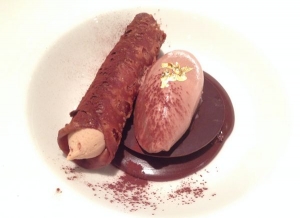 Posh nosh so it is an expensive indulgence.
Lunchtime special set price menu
Reservations preferable.
Ps Dont order mineral water without asking the price!
4 , Berkovitch Street
+9723-693-5151