Bialik Street in Tel Aviv is one of the most beautiful streets in the city. Situated off the highly used Allenb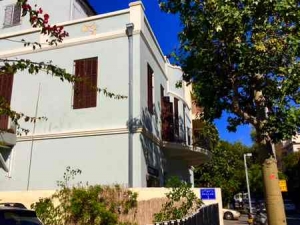 y Street, it is in complete contrast to this bustling main road. Just a few steps into infamous Bialik Street and you are transported back to an era of elegance.Well, at least I am! O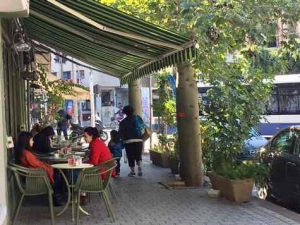 n the corner as if to welcome visitors, is the well frequented and established Cafe Bialik. This may be the neighborhood hangout but tourists also come to sip coffee and watch the world go by.
Bialik Street in Tel Aviv is one of our most historic areas. It represents the past and development of the city which is expressed in the eclectic styles of architecture. The new Jewish immigrants to Tel Aviv built their homes in the designs they were familiar with. Many added columns, arches or baronial features to enhance the exteriors of th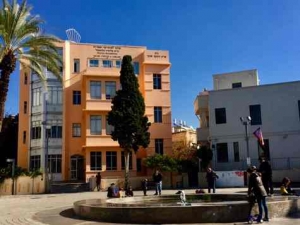 eir houses. A good example would be Bialik's House itself. Bayed front windows, wood cladding, arched entrances and even a turret! Extreme was obviously seen as a form of Sweet grandeur! This soon changed, when German design influenced further building. In came Bauhaus! With is pure lines and simple facades it was the opposite to the baroque style that had dominated.  Even so, some adjustments to the 'original' Bauhaus style in respect of the hot climate were made. Letting in more magical Mediterranean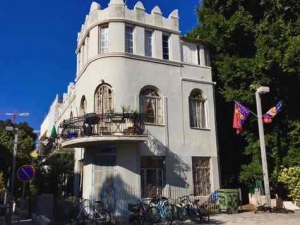 light with the additions of porthole windows and sun balconies. Both these unmistakable architectural styles can be seen along this narrow leafy street. Unusually, they sit in complete harmony as if they were built for each other!
At the end of the street, there is an open square where the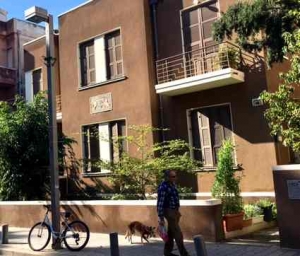 Old City Hall is situated. With it's white exterior and quirky pink board it is a honey track for adults and kids alike. This is now the Musem of History of Tel Aviv. Adjacent to this is a bright terracotta building standing out like a beacon. This is the Felicja Blumental Music Center & Library, which houses interesting library collections and the occasional concert. Further down the street is the wonderfully colorful B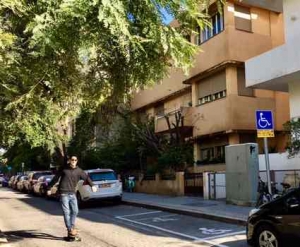 ialik House. Beautifully renovated this once welcoming home, is now a memorable museum. In tribute to Bauhaus, there is a unique one-room exhibition of furniture displayed in the Bauhaus Foundation Exhibition.

If all this is not enough for Bialik Street in Tel Aviv, there is also the former residence of Tel Aviv artist Reuven Rubin. The Rubin Museum holds a permanent display of his famous works, temporary displays of guest artists and an open workshop for youths. So if you have your touring hat on and a full day to spare, take a trip to this amazing street.
So if you have your touring hat on and a full day to spare, take a trip to this amazing street. Visit the museums, enjoy the architecture and drink coffee in historic surroundings!
♥Bialik Street in Tel Aviv